On February 28, the Education Ministry's Schools Welfare Department in collaboration with others visited `E' Field, South Sophia and found 48 children who were not in school.
A release from the Ministry of Education yesterday said that the team included the Ministry of Labour, Human Services and Social Security and the Guyana Police Force. They were investigating the absence of school-aged children from school.
The release said that within a few hours and a thorough walk through of the 'E' Field Sophia area, the joint team found 48 children who were not in school. During visits to the homes of some of the children, parents and guardians were told about their responsibility to ensure that their children receive an education.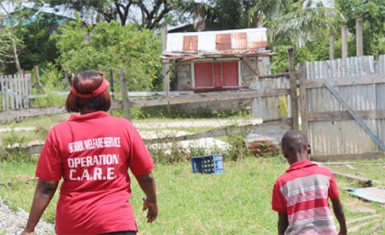 The release said that it was noted that more males were absent and that there seemed to be a significant number of secondary school-aged children who were either at home or playing with friends.
The release said that this is the first of many campaigns planned for 2014.
Comments

A section of the Kitty Public Road is to be closed from Wednesday as the Ministry of Public Infrastructure steps up road works in the area.

Anil Nandlall Former Attorney General Anil Nandlall today rejected an explanation by Minister of State, Joseph Harmon over the government's directive to the Police Service Commission to halt promotions.

The improvised weapons (Prisons photo) Prison Staff this morning with the support of the members of the other services, reported for duty at the new holding area lusignan Prison.

Nicolas Maduro CARACAS/LIMA, (Reuters) – A group of 12 regional nations plus the United States rejected Venezuela's new government-allied legislative superbody, saying they would continue to regard the opposition-controlled congress as the country's only legitimate law maker.

Eighteen prisoners at the Lusignan penitentiary were being treated for injuries last night following a reported attempt to kill a fellow inmate during which warders fired shots.