Local master drummer Curt Primo died on Thursday morning after what his relatives have described as the failure of staff at the Woodlands and Georgetown Public hospitals to treat his respiratory ailment with the urgency it deserved.
Yesterday they were still trying to come to grips with his death and the fact that they watched the 36-year-old father of one suffer for several days before he succumbed. Prior to being taken to the public medical institution he had sought medical attention at the Woodlands Hospital.
Relatives said that they had to ask for a referral to the Georgetown Public Hospital (GPH) as Woodlands had refused to admit Primo unless they lodged $100,000 to cover the expenses associated with the private room he would have been placed in as well as observation for some 5 hours pending the doctor's arrival.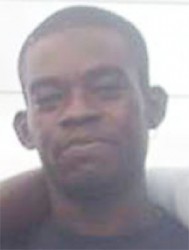 Later, Primo spent several hours sitting in the waiting area of the emergency room of the Georgetown Hospital in a wheelchair, panting for breath and crying out for pains in his chest.
Contacted, Chief Executive Officer (CEO) of the Georgetown Hospital Michael Khan said the matter would be investigated. In circumstances such as these, the hospital would ask the relatives of the deceased to come forward and lodge a complaint. Primo's relatives have expressed the desire to do this at some stage.
A senior official at the GPH, who asked not be identified, told the Stabroek News that the patient was taken there from Woodlands in a "terrible state," while adding that the family's allegations are contrary to what took place as Primo was "being treated at all times and was on the bed receiving oxygen." According to the official, Primo had pneumonia.
Administrator at the Woodlands Hospital Deonarine Memraj, after speaking to the staff who would have treated Primo on Wednesday night, told Stabroek News that Primo was diagnosed with Acute Respiratory Distress Syndrome (ARDS). He said that the patient was administered immediate medical care, comprising oxygen, nebulization and intravenous (IV) drips.
According to Memraj, relatives were advised on admission, documentation was completed and a referral made to the resident consultant. He said that subsequently, Primo's relatives inquired about the cost and were advised that the rough figure was $100,000.
After a debate, Memraj said, the relatives asked for a referral to the Georgetown Hospital, which was granted.
He advised that he was in possession of the referral letter and the admission form, which, among other things, had the tests that were ordered. He stated that because of his condition, Primo required admission.
He insisted that in emergency situations, money does not take precedence over care of patients. He explained that on admission there is a guarantor form that relatives have to sign, which is more or less a pledge to pay for the care given by the hospital. "If a patient comes in an emergency they are not required to pay cash," he stressed, adding that there is a long list of persons who despite signing the form do not pay. He said that in such circumstances, the hospital tries to come up with a payment plan, which sometimes works. In the event that the relatives cannot pay the money he said, the hospital would "write it off."
He said too that as far as he is aware, Primo's case was the first time such an allegation has been made against the hospital.
 'Stifling'
Meanwhile, at Primo's Norton and John streets home, his mother Anita Primo recalled that on Saturday morning he was working on the family's scrap iron truck and "he was squeezing up he self." She said she next saw her son on Monday and he told her he was feeling unwell. According to her, he explained that he had purchased food on Saturday and it was after consuming it that he felt upset. She said he told her his stomach was hurting and he had a cough and "he would feel like he stifling but nothing ain't coming out."
A decision was then made to take him to the Woodlands Hospital.
She recalled that they arrived at the hospital just after lunch and he was seen by a doctor who later administered oxygen, two injections, some tablets and a cough syrup. The doctor kept him a bit for observation after which he was sent home.
According to her, on Wednesday night around 11, he told her "Mommy the tablet ain't wuking. Wha happen? Why I can't breathe? I just wan know why I can't breathe? Just carry me back to de hospital and leh they tell me why I can't breathe." She said he told her he had used all the medication prescribed and she later took him back to the Woodlands Hospital.
She said they saw a doctor in the emergency room and her son was given oxygen. The doctor later decided that Primo needed to be isolated and should be placed in a special room which would cost $150,000.
The woman told Stabroek News that they were told they needed to lodge $100,000 and if they did not he would not be admitted. She said she told them that because of the hour of the night, she could not access that amount of money and requested that he be tended to and "the money will come". She said the staff insisted that if the money was not lodged, he could not be tended to.
Relatives said they were told the money was to observe him until 6 am when the doctor arrived. She said they also asked whether an x-ray could not be done to see if there was a blockage somewhere, but were told them this could not happen until he was admitted.
She said it was at this point that it was decided that the hospital would be asked for a referral and Primo would be taken to the Georgetown Hospital. She said the Woodlands Hospital called the George-town Hospital and sometime around 2 am, what was supposed to be an ambulance came to transport him.
Stabroek News was shown a photograph of the "ambulance" used to transport Primo and it was noticeable that there was no first aid equipment onboard, not even an oxygen tank.
Primo's brother Orlando said that at the GPH, he was placed in a wheelchair in the waiting area. He recalled giving the nurse on duty the required information needed for his chart. "We wait, wait till about four something right outside and nobody came to tell us anything," he recalled. All this time, Primo's relatives said, he was panting for breath and was in pain.
Orlando told Stabroek News that a friend at the hospital advised that because the doctors would not be finished with Primo in a hurry, they should go home and come back. He said he left his brother in the waiting area.
Several hours later, one of Primo's sisters received word that he had died. Orlando said that when he arrived at the hospital sometime around 7 am, the doctor signalled to him to wait. After waiting about ten minutes, he said, he went back into the emergency room and he was informed about his brother's death. He said when he asked if nothing could have been done to help him, the doctor told him that his lungs were badly infected.
Orlando said he saw his brother's body on a bed with wires from the heart machine still attached to his chest.
 'Saving lives, not gaining money'
Dawn Lyken, a close family friend, who is a registered nurse with extensive training and prior attachments to military hospitals in the US and who also lectures at the University of Guyana told Stabroek News that Primo's situation was an emergency. She said the first step should have been to administer blood gases so as to open the lungs and then admit him to the Intensive Care Unit. "A person should not sit for four hours in the emergency room in a critical condition. If the emergency room couldn't handle it, they needed to move the person quickly to the ICU," Lyken said, adding that a chest x-ray and blood work needed to be done to determine the cause of the problem.
She stated too while assumptions could have been made based on the signs displayed, diagnostic testing needed to be done to verify those assumptions. Lyken said that that first step of critical
care ought to have been done at the first hospital Primo was taken to and she was surprised that that hospital did not do x-rays. "I am dumbfounded that in the ethics of my profession you would be refused treatment if you don't have money right away," she said, adding that you are supposed to "treat, stabilise and move on" if the person cannot afford to pay.
She said that this culture of money before treatment is given ought to be changed and is an issue that the medical community needs to address. "Our obligation to medicine is saving lives. Not gaining money," she said, adding that the Geneva Convention states that you cannot refuse care for a person in the emergency room.
Lyken said it is a "sad situation" when a patient in a serious condition is left sitting in a wheelchair in the waiting area of an emergency room. "I am not upset that he died because I know we lose patients, but we work hell hard to ensure we don't lose them," she said. The bottom line is that the effort to save the life has to be made, she added.
Relatives also questioned how the doctors at the Georgetown Hospital could have come up with a diagnosis without conducting tests. They said that they will be pushing for there to be a change in behaviour of those in the medical profession so as to prevent similar deaths from occurring.
Anita Primo said that she has lost her son through negligence and none of the hospitals helped her. "If the hospital had tried for me, I would have been happy that he gone and they help me but I watched him suffer," she said.
Primo leaves to mourn his parents Maurice and Anita, one child and ten siblings.
Comments

Michael Bhopaul, 16, doesn't know if he is this year's best performer at    the Caribbean Secondary Examination Certificate (CSEC) Examinations, but with preliminary results showing that he has obtained passes in 25 subjects, he will be hard to top.

Inmates at the Lusignan Prison turned over 33 improvised weapons yesterday morning to prison authorities, who say that they also apologised to the prison staff for the unrest at the facility on Friday night.

Well known Berbice attorney Chandra Sohan was arrested on Friday after he allegedly struck a pedestrian in a hit and run accident along the Williamsburg Public Road.

For a little more than an hour yesterday, the streets outside the Mackenzie Market rang with the voices of dozens of Linden residents who turned out to support a march against homosexuality.
The woman killed during the violent storm in Jawalla, Region Seven on Friday, has been identified as a mother of two, who was seven months pregnant.