It has been almost two months since promoter Trevor Rose was gunned down and while no one has been charged with his murder, Crime Chief Seelall Persaud says that investigators are on the case.
Initially, the investigators managed to detain two men but Persaud said they were forced to release them after the two persons who were with Rose at the time of the shooting could not positively identify them.
Though from the outside, the possibility of a breakthrough seems bleak, Persaud in a recent interview with Stabroek News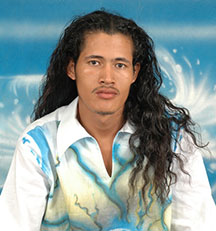 stated that while there were no new developments in the case, there were clues that ranks are investigating.
Rose, a father of eight, was shot dead around 5 am on January 26 while travelling in a car on the Eccles Access Road, East Bank Demerara. Reports are that Rose and a female companion, Latoya Towler (the mother of his youngest child), were heading to the woman's Eccles home when the shooting occurred. They were passengers in a car driven by Troy Nieuenkerk. Both Towler and Nieuenkerk were injured in the attack.
Based on the information given to the media by the police, it appeared as though Rose was killed as a result of road rage. However, based on what Nieuenkerk said, Rose apparently was the target and knew the shooter as shortly after the man walked up to the vehicle, Rose instructed him to drive.
Rose sustained five gunshot wounds and died before reaching the Georgetown Hospital.
Who killed Trevor Rose and why? These are questions that are still lingering. Who owns the gun found at the scene of the shooting and the tinted car that the gunman escaped in are other outstanding pieces of the puzzle.
His mother Lily Brown, children and other relatives are still struggling to come to terms with his death.
Brown, in a recent interview with Stabroek News, said that she had not heard from the police and although she was given a card to contact them, she had opted not to. She explained that she maintains the view that pursuing those responsible made little sense as her son is already dead and there is nothing that could bring him back. "Even if they find him and hang it, it doesn't matter because I can't get Trevor back. I will get no satisfaction," she said strongly.
"I would like to see the police get off their asses and do what has to be done," she said, while adding that her family has no confidence in anything coming out of the matter because of who is involved and the high ranking officials that that person is said to be associated with.
She said that although she is not satisfied with the pace of the investigation and what has so far been done, she refused to "go out there and be an idiot."
Asked about the identification parade and the fact that nothing much came out of it, Brown said that she is not surprised by the outcome. She said that not everything that those present would have seen they would be able to say. She said that those persons are living in fear and to make matters worse had been shot during the attack.
Brown told Stabroek News that she has no information as to the identity of the persons detained or their affiliations with Rose.
Because of a woman
According to Brown she and other relatives have been hearing a lot of things, some of which makes sense and some of which are distasteful. She said that all the rumours and distasteful things said about her son she is trying hard to ignore as she knows that he was not a criminal and was not involved in illegal activity. She went as far as to show a newspaper article in which her son was linked to an opposition member and the suggestion that they were allegedly involved in illegal activities. "I an ignoring some of the things that are being said. I have to portray a certain image in society," she said, before adding that she was leaving the matter in the hands of the "man above."
She said that her son was killed because of a woman.
Brown told this newspaper that it is hard to accept that her son is gone forever and there are many days when she expects to see him walking up the stairs. According to her, it is hard for a mother to forget a child who was part of her body. She said that had Rose been shot and injured and died subsequently, there would have been acceptance on her part. She questioned how someone could hate Rose so much to put a hit on him.
Recalling her humble means while Rose was growing up, she said that never in her wildest dreams did she imagine that he would have achieved so much in the 32 years of his life. She said Rose had been through so much in his life and wanted to write a book.
She told Stabroek News that her son lived his life to the fullest. The recently concluded Mash celebrations, she added, were particularly hard for her. She said that when she looked at the parade on the television, her son's creative work was noticeably absent. Rose had been an award winning designer. His mother said that while there were a few good pieces in this year's costume and float parade, they were no match for her son's talent.
Comments

Vamanadev Hiralall, of the privately-run Saraswati Vidya Niketan (SVN), is the country's top performer at this year's Caribbean Advanced Proficiency Examinations (CAPE) after achieving an accumulated 13 grade one and 3 grade two passes.

Twenty-six students in the top one percent of the 12,684 who sat this year's Caribbean Secondary Education Certification (CSEC) examinations earned 12 or more Grade I passes, with half of them, including the top performer, coming from Queen's College (QC).

On the second day of the Commission of Inquiry (CoI) into African ancestral lands and other matters, four witnesses made cases for the return of lands they feel they are rightly entitled to, which were either taken by the state or occupied by private owners.

Shelton George, the man charged with both murdering a waitress at a Chinese restaurant and the attempted murder of a magistrate, was found dead in his cell at the Lusignan Prison yesterday morning.

The Chairman of the Triumph Neighbourhood Democratic Council (NDC) yesterday instructed workers employed on a private site, reportedly intended to build a first-floor pool, to cease operations, just two days after residents called on authorities to halt its construction.