It's a nutty world at Aranaputa. But in a delicious way. Salted nuts, peanut biscuits, parched peanuts and the mainstay, peanut butter sustain the women of the Aranaputa Processors Friendly Society (APFS), who produce these for sale to schools and communities of the North Rupununi.
From a project that began in 2005 under a thatched roof, the group, which now operates out of a modern building, focuses on making peanut butter and fruit juices, and produces other peanut products such as biscuits in addition to cassava bread. The women also show off their skills to tourists who pop in from time to time. "At the moment it's good and also a learning process for many of the women," Sonia Sears, the treasurer for the group told Stabroek News recently.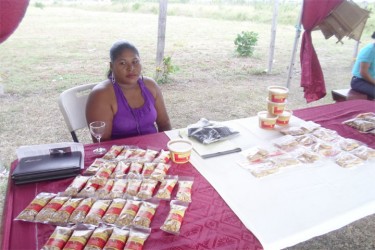 Under the schools snacks programme, the group, now consisting of ten members, provides daily snacks consisting of cassava bread, peanut butter and fruit juices to local schools. Fourteen schools in the North Rupununi are provided with peanut butter. A lot of residents do peanut farming and Sears said they are achieving their objective of proving a fair market for peanut farmers.
She said that currently, they purchase peanuts from about ten farmers. About 8,000 pounds of peanuts are bought on average per year to meet their needs, Sears said. They also purchase cassava and fruits from villagers. Sears joined the APFS in 2010. "I like seeing development and helping my fellow women," she said. She thought the women were capable and they apparently thought the same about her as she was elected chairperson and is now the treasurer. The workers are rotated every month so that all members get a chance to work with there usually being two or three persons being employed at any one time.
Sears noted that the group also started with the aim of empowering women, but "at the moment we have opened the door to men." Two have joined. Sears said that some of the women do not know how to change the generator's oil or crank it up so they decided to open the APFS door to men and they would be responsible for the maintenance of the generator and lifting bags.
Apart from the focus on peanuts, tourists from the nearby Rock View Lodge are also sometimes directed to the little factory where the women demonstrate the making of peanut butter and give a tour.
Sears said the group has also been able to attend workshops and meetings and have joined the Women's Agro-processors Develop-ment Network, a network of women's groups involved in similar activities so that they can share experiences and assist each other. They have also participated in trade fairs such as GuyExpo and even visited countries such as Venezuela for a study tour.
The peanut project had its genesis in 2002, when a local team of peanut farmers joined with the universities of Georgia and Florida to start the Peanut CRSP (Collaborative Research Support Programme) – Guyana project. In 2004, the peanut crop reached an all-time high but this coincided with an increase in imports of peanuts from China, a glut in the Georgetown market, and thus lower prices to peanut farmers.
A search for new markets led to negotiations with the Ministry of Education for the purchase of school snacks made from locally grown peanuts, cassava and fruits. The ministry agreed to a six-month pilot project in seven villages in Region Nine. In January 2005, the Canada Fund for Local Initiatives committed funds for the purchase of tools and equipment for the pilot and by February, groups of women were active in the seven villages. By June that year, they were in operation, producing a peanut butter, cassava bread and fruit juice snack for 1,400 students. Aranaputa was one of the villages.
At the end of 2005, the seven cottage industries were selling $20 million in snacks to the education ministry. The Society for Sustainable Operational Strategy (SSOS) was formed in 2007 to ensure ongoing training and technical support to the women. With funding and support from several organisations including the Canadian government and the US Ambassadors Self-Help Fund, the APFS factory was built and equipped.
Comments

The improvised weapons (Prisons photo) Prison Staff this morning with the support of the members of the other services, reported for duty at the new holding area lusignan Prison.

Nicolas Maduro CARACAS/LIMA, (Reuters) – A group of 12 regional nations plus the United States rejected Venezuela's new government-allied legislative superbody, saying they would continue to regard the opposition-controlled congress as the country's only legitimate law maker.

Eighteen prisoners at the Lusignan penitentiary were being treated for injuries last night following a reported attempt to kill a fellow inmate during which warders fired shots.

A 12-year-old girl is now dead, while her brother narrowly escaped a similar fate yesterday after their aunt's La Bonne Intention (LBI), East Coast Demerara house, which they were under, collapsed on them.

Guyana has officially applied for membership in the European Union's Extractive Industries Transparency Initiative (EITI) which will help in tracking revenues from oil and other natural resources.