The Guyana Sugar Cor-poration's (GuySuCo) two-year working relationship with South African firm Bosch Engineering is nearing an end, but problems persist despite the additional US$30 million spent to rehabilitate the troubled US$110 million Chinese-built Skeldon factory.
Stabroek News was told that representatives from Bosch were in Guyana in February, reviewing the six projects they were hired to complete. This publication was told that Bosch has not finished work on the bagasse plough and that one of the primary conveyers is still malfunctioning.
GuySuCo has not been speaking to the media about the various challenges facing it including the state of what was supposed to be the flagship Skeldon factory.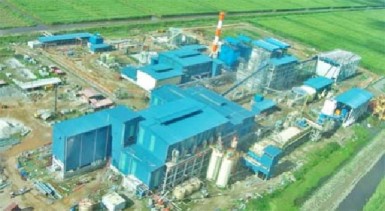 According to one industry insider, GuySuCo is reluctant to release information on the work done by Bosch because it was not done to specification and at this point the work which was to be finished since 2013 is ongoing. Stabroek News was told that the condensate tank still needed work and that when Bosch representatives were in Guyana they were hesitant to say the work was finished.
The source said the shredder and reverse rotation cane knives were working properly so far and Bosch and GuySuCo were pleased with the work done.
Ongoing issues have seen the lifting system or dumping arms seemingly stalled and Stabroek News understands that there have been compatibility issues between the original work done by the Chinese contractors CNTIC (China National Technical Import and Export Corporation) and Bosch.
The industry insider stated that the Skeldon plant was sectioned off and equipment was sourced not only from China, but Europe and the United States as well. This has led to compatibility problems.
The source said GuySuCo's technical staff was generally left out of the discussions and it was the board that seemingly made decisions.
The source said that GuySuCo's board would draft tender documents that were not reviewed by persons with technical expertise and as a result problems with compatibility, which would have been found from the inception, were never acknowledged.
Stabroek News was told the deal with Bosch was not wisely thought out. The industry insider said that India and Brazil were routinely overlooked when it came to real technical help. Now, it was noted, GuySuCo was bringing in Indians to run factories – Enmore in particular – instead of asking for technical assistance in fixing them.
The source said it was because of issues with compatibility that China's CNTIC, which was responsible for the labour component, did poorly and this has plagued the Skeldon factory since it was commissioned in 2009.
Stabroek News was told that GuySuCo was attempting to not make the same mistake with Bosch that it did with CNTIC and ensure a liability clause. However, the penalties within the Bosch contract are not known and this publication understands that the defects liability clause may cover but a few months.
The industry insider stated that when Bosch's real work started in March last year technical staff at the Skeldon factory had tried to raise the alarm that things may not run smoothly, however this was ignored. Instead the slow progression of work was blamed on the length of the off-season.
The source said that this was an issue and in fact most of the work can only be done while the factory stands still. Proactive arrangements were rarely ever made so the time taken to make effective plans was also during the off-season.
The source said GuySuCo was operating a "top down" approach and "frontline people" were being dismissed.
This publication was told that the Skeldon factory may soon mirror the Enmore factory with GuySuCo bringing in a larger complement of Indian engineers from the Indian firm Integrated Casetech Consultants Ltd (ICC) to run Skeldon.
"We don't need consultants with high pay. That money we can be using to fix these factories that are over 50 years old… rehabilitating what is actually wrong," the insider said, adding that Skeldon has a future if the state owned corporation would take into consideration the technical expertise available "right here in Guyana."
GuySuCo, after failing to start the first crop in January as planned, finally commenced reaping and grinding two weeks ago.
GuySuCo's target for 2014 is set at 216,000 tonnes, a deviation from its 2013-2017 strategic plan which had the industry target for 2014 at 278,752 with the troubled Skeldon factory projected to produce 57,915 tonnes. There is no word yet on what the new expected breakdown this year for the seven factories will be. GuySuCo produced 186,000 tonnes of sugar last year, the lowest figure in 22 years.
Comments

Mashramani celebrations ground to halt for several families yesterday afternoon, when approximately 30 persons lost their homes after a fire of unknown origin ripped through three Victoria Road, Plaisance properties, including an apartment building.

Minister of State Joseph Harmon says that the US$3 million settlement offer made by Hong Kong Golden Telecom Limited (HKGT) on the outstanding balance for its purchase of government shares in the Guyana Telephone and Telegraph Company (GTT) is being actively considered, but the government's goal is to recover the entire US$5 million that is owed.

Opposition Leader Bharrat Jagdeo on Thursday criticised government and Minister of Finance Winston Jordan on the heels of the announced plan to borrow cash from local banks to reopen two sugar estates and to fund critical current and capital Guyana Sugar Corporation (GuySuCo) programmes.
The private sector is upbeat about the nearly three dozen-odd opportunities recently advertised in the oil and gas sector as it goes some way towards meeting local content needs, according to Private Sector Commission (PSC) Chairman Eddie Boyer.

'Black Panther,' the new Marvel Studios cinematic juggernaut opened in Guyanese theatres to overwhelming support on Thursday evening, which saw a large number of patrons turning out in African cultural display to mark the occasion.