There is need for Caribbean universities to get their students out of the classrooms and more into their communities to help these become developed and sustainable and to address their many social problems. At the same time it would provide much needed experience for the students.
This is according to Dr K'adamawe K'nIfe, who is a lecturer and researcher at the University
of the West Indies Mona School of Business and Management in the field of entrepreneurship and strategic planning, with the focus on social entrepreneurship and community safety and security.
Dr K'nIfe's primary research is on social entrepreneurship which he said is really where individuals create social values within communities, but it must be self-sustainable. He noted that the idea should not be focused on making a profit for oneself but on profit to reinvest in fulfilling the mission of the social enterprise which should be improving the lives of the persons who are part of the organization.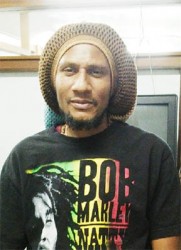 "Every problem seen in a community should be seen as an opportunity, because it represents a need which is unmet and therefore needs to be met, and therefore you have to provide some service or a good," Dr K'nIfe said in a recent interview with the Sunday Stabroek.
The lecturer, who is a Rastafarian, is presently in Guyana on a trip organized by the Rastafari Initiatives for Socio-Cultural Empowerment (RISE) which in collaboration with the University of Guyana Students' Society had organized a lecture entitled 'Establishing Ganja Enterprises in the Caribbean: A Business Model Approach' at the University of Guyana (UG). The lecture had attracted a huge turnout.
According to the lecturer, people in communities are always looking at ways to solve problems  and they would start various groups, but would realize that they need funding to become sustainable and would struggle to put in place established governance structures.
"They understand what the methodology is but we need to give them more information for them to become more skilled in how they apply the methodology," Dr K'nIfe said.
For him people in the Caribbean should not be suffering the way they are when funding is available, but there is need to help people empower themselves since it is not about creating dependency but rather a sustained source of income.
"That doesn't mean you wouldn't take grants or philanthropic offers, but the reality is whether that exists or not we have to do our thing of our own," Dr K'nIfe said while reminding that grant funding is drying up.
Shortage
According to the lecturer, in Guyana, as in many Caribbean countries, there is a shortage of persons to develop sustainable proposals to access funding, and no one looks at tapping in to the university students who can be used to fill this gap. However, he said the University of Guyana curriculum is not structured to provide this.
At the Mona Campus where he lectures, Dr K'nIfe said in his programme they use what is called experimental learning and reverse classroom, meaning that students own the class. He said he has removed exams from the programme because for him they are "really a waste of time," noting that entrepreneurship is really about practice and not about memory.
His students are asked to write business proposals or strategic plans for community-based organisations whose members have the passion and commitment but lack the skill required by the funding agencies to write proposals to access funding. However, with the students immersing themselves in the organisations, ideas are exchanged, and while funding is accessed the process also demonstrates how "real value can be created just by that kind of interaction."
He feels that if this kind of methodology is applied at UG where students are used to engage their various communities there would no longer be the shortage and the engagement would then become the assessment of the students.
"In that kind of scenario my courses are called A or fail  courses because there can't be a B+ entrepreneur in a global market space, to me that makes no sense…" he said. Universities are most times made up of some of the brightest young people, he continued, yet when they are at these institutions it appears as if the system is designed to break the confidence of the youths.
He said he is amazed at what his students are able to do, and most times he does not lecture but the students are allowed to do this, noting that he is presently in Guyana because his teaching sessions are over. The students are now engaged in over 100 different communities in Jamaica with the aim of addressing the various problems facing that country using the social entrepreneurship model as the way forward.
"The reality is that within the field of entrepreneurship we are competitive and collaborative and we realize that by using this network (of state, private sector and students) we can generate significant social values," Dr K'nIfe said.
According to Dr K'nIfe with the university involvement the development of the various models used in communities are tracked and following a thorough analysis they can determine what has and has not worked. He said the university provides the research but also a space that incubates, which is important, as this process helps students and communities to move their ideas into enterprise.  The relationship between the university, communities, state and private sector organisations gives a constant feed of ideas and can shape what should or should not be done.
What is even better is that while many years ago only certain persons had access to a university education today persons from all communities that need help, are at university and those students should be targeted and their capacity built, as it is not about the area they study but their capacity to absorb.
Land
Dr K'nIfe is of the opinion that every student that graduates from UG should be given a piece of land, noting that about 80% of the persons with a tertiary education in this country leave and it is not about whether they want to leave but rather about whether the country can absorb them.
While the area they might have studied may involve a difficulty in terms of job opportunities, Dr K'nIfe said that if they are helped to realize that their competence can be applied to agriculture they may want to stay if they have land.
According to Dr K'nIfe information available shows that Guyana has the fourth highest industrial growth rate in the world and it is driven by the mining industry, but he finds it ironic that the country has a foreign exchange problem.
"So when you mine the gold where does the gold go? Don't you have any in your reserve? So you are building other people's economy and not yours and then you are complaining that the youths are leaving the country," Dr K'nIfe told his audience.
He questioned how Guyana could be a country that minds gold and diamonds and yet worry about US currency, which is an illusion. He said the youths need to recognize the "real value" of their state and engage the communities.
Dr K'nIfe also zeroed in on the garbage problem in Guyana and pointed out that while the final consumers are blamed (and they must take some responsibility) really it is the corporate companies that have a social responsibility to ensure that the environment in which they operate is clean and safe. He suggested that the companies adopt communities and fund events that build awareness of the importance of a clean environment and suggest ways in which this can be done.
"If we can get that kind of commitment from state and from big communities you would see how fast these places will be transformed… [you] just need commitment and passion," Dr K'nIfe said.
According to the professor research has shown that the traditional approach towards social intervention is unsustainable because it is anchored in a welfare model as it depends on grants and funding. No outcomes and impact of these programmes are assessed Dr K'nIfe said, pointing out that programmes have existed in the Caribbean for over 20 years and there are no documented cases of what has worked and what hasn't.
"It tells me that the interest in the impact was not there…" Dr K'nIfe said, admitting that some may say that he is into conspiracy theories but for him it is factual, as there is no explanation for spending large sums of money and there is no interest in the impact.
He noted that even the monitoring and evaluation processes are not robust, with the excuse being that there should be no infringing of the sovereignty of the various states.  For him the real crux of the matter is that the international partners have a budget line item that needs to be met and that means releasing the funding, and that is where their responsibility to their funders lie.
According to Dr K'nIfe the history of the Caribbean is a social entrepreneurial history where "we have been constantly and consistently trying to improve the lives of our people." He said out of necessity people have to find self-sustained and independent ways outside of the formal system to improve the quality of their lives.
Background
Dr K'nIfe grew up in Arnette Gardens, a community in the famous Trench Town in Kingston, Jamaica, and he said while he grew up among many youths who took up guns they always encouraged him to attend school, since he was one of the few that gained entry into High School. Initially he wanted to study history at Mona but in his second semester he found out that a course on Caribbean history was being taught by a European and he immediately dropped the subject.
"I learned history well; it is a very passionate subject especially when you are talking about the Caribbean experience and no white person can ever communicate in a very truthful way what happened to our people in history… They can teach so I can pass an exam, but that is not what I am about; it is about learning and it is not about race. It is about creating the best learning environment," Dr K'nIfe said.
He later completed a first degree in economics followed by a masters in the same area, and upon completion he was not interested in leaving the country even though he wanted to read for a PhD. However, there was none in the Caribbean on social economics. He later read for a PhD in Sustainable Development after which he joined the university family and was asked to develop a strategic plan for the university and the degree programme in entrepreneurship. He was also contacted by CAPE to be part of a team to develop a programme in entrepreneurship which comes out this year, and he will be the chief examiner for the course over the next five years.
Dr K'nIfe said while persons knock Caribbean institutions he has never worked with a more studious institution than CXC, which reminded them throughout that the aim of the programme is not to get students to pass, but to develop them and get them to do the work. He said CXC has been doing their part but the issue is what happens in individual countries and in the school on the delivery of the various subject areas.
Comments

Eleven residents of the juvenile correctional centre at Onderneeming on the Essequibo Coast were apprehended between yesterday and this morning.

With growing pressure on the government over the overcrowding of jails, MP Michael Carrington is confident that the parliamentary bill in his name to ease penalties on marijuana use will gain the support of the governing APNU+AFC benches of which he is a member.
The National Toshaos Council (NTC) is to begin its conference today and high on the agenda will likely be ongoing concerns about the lands commission of inquiry (CoI) which the government has convened.
A Trinidad-based medical products company has secured four contracts worth $135.4m. According to the Ministry of the Presidency (MotP), Cabinet at its meeting on August 15,2017 noted the award of 16 multi-million-dollar contracts.

The police on Friday evening discovered an AK-47 assault rifle and a quantity of ammunition in a haversack at Kingston, Georgetown.