The widow of Dennis Harris, the man who died at the West Demerara Regional Hospital after slashing one of his wrists while trying to force his way into his house, remains in police custody, her daughter said.
Sabrina Wray said she was frustrated that her mother, Yonette Gumbs of Lot 1525 Onderneeming, Parfaite Harmonie, West Bank Demerara, is still in custody.
"The police told us that they are waiting on the post-mortem but I can't understand why they keeping her there," Wray said. "Right now, I'm stressed out and it's frustrating because I was there and she didn't do anything," she said. "When the post-mortem come out they will see. It's his relative who tell the police that is my mother and we did that to him."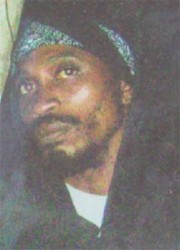 Harris, 45, of Lot 1525 Onderneeming, Parfaite Harmonie, West Bank Demerara told his family minutes before dying that it was "Yonette and she children do this to me."
Wray told Stabroek News that her mother and her stepfather were arguing when they returned home on Thursday from a family reunion. She said Harris was drunk and also high on marijuana. "It was around ten pass eleven when they come home and he cuss her up and tell her a set of hurtful thing," she said, recalling Harris waving scissors in her mother's face and saying he would kill her.
"He was so drunk she pushed him out of the house and we lock the door and then he cuff the window and I see his hand and blood spill up all over. The window thick and one cuff he bruk it," she related.
Harris and Gumbs were together for seven years.
Comments

In preparation for Guyana's emerging oil and gas sector and the bustling business usually synonymous with the industry, the Pegasus Hotel is expected to undergo a huge expansion which includes office and residential rental spaces.

Police Commissioner Seelall Persaud is to resume his duties today after spending approximately six months on leave, Public Security Minister Khemraj Ramjattan yesterday confirmed to Stabroek News.
The Alliance For Change (AFC) yesterday launched a scathing attack on the union GAWU, accusing it of decades of sabotage of the sugar industry and not genuinely representing the interests of its workers.

The importance of foot health, especially for persons with diabetes, was emphasized by Podologist Yvonne Braithwaite yesterday, when she launched the local leg of Rovon Health Care Inc, which includes a foot spa.

All local and international bidders for government contracts are being asked by the National Procurement and Tender Administration (NPTA) Board to complete a NPTA Supplier Registration form to obtain a registration number which they can use on bidding documents for quick database referencing.