Guyanese among five held over theft from mail at JFK Airport
A Guyanese man is among five baggage handlers at the JFK Airport in New York who were busted last week, charged with stealing credit cards, cheques and money orders from US mail destined for international flights.
Michael Williams, 29, of 489 Atkins Avenue, Brooklyn but formerly of Guyana, was arrested and charged along with Anthony Austin, 26; Alexander Fluellen, 29; Samuel Wright, 31; and Ariel Weaver, 20. They were charged on Thursday.  Prosecutors have said that they went through mails and allegedly used stolen credit cards to purchase electronics and deposited cheques and money orders into their own bank accounts. The thefts totalled more than US$27,000.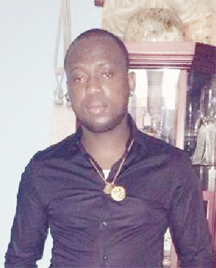 In a statement issued by his office, Queens District Attorney Richard Brown said the handlers' jobs included loading US mail onto outbound international flights, and they stole money orders and cheques bound for Japan, China and Korea, and elsewhere.
Undercover video showed baggage handlers allegedly using credit cards they had stolen from mail bags to purchase iPads at a JFK Kiosk. At that time they were under surveillance for stealing money orders, credit cards, and checks from mail bags inside the belly of planes.
"The baggage handlers were going through the mail in the belly of the planes looking for credit cards, cashier (cheques), money orders. They'd cash them and use credit cards," said Tom Boyle, U.S. Postal Inspectors, in the statement.
Prosecutors say the baggage handlers stole cheques ranging from US$100 to US$1,000 and then deposited them into their own bank accounts.
Port Authority Police and Postal Inspectors caught the five after tracing back the stolen cheques to some of the baggage handlers' accounts. In some cases, authorities say they were stealing from soldiers and children.
The five were arraigned last Thursday in Queens Criminal Court on separate criminal complaints in which they are variously charged with third- and fourth-degree grand larceny, third-, fourth- and fifth-degree criminal possession of stolen property, petty larceny and first- and second-degree forgery. Defendants Fluellen, Wright and Weaver were released without bail and Austin was held on US$5,000 bail. Williams is being held pending arraignment.
District Attorney Brown said that in response to numerous reports of thefts of credit cards, money orders and cheques from US mail, specifically mail allegedly being handled by Ground Services Inter-national baggage handlers at JFK International Airport, a joint investigation was commenced by the United States Postal Inspection Service and the Port Authority Police Department.
Most Read This Week