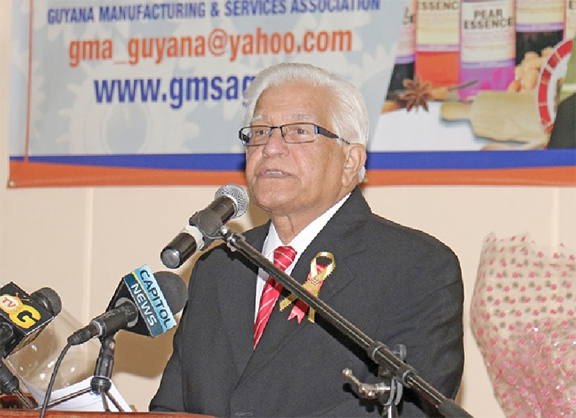 Presenting an array of research on Caricom's uneven development, former Trinidad and Tobago Prime Minister Basdeo Panday repeated Sir Ronald Sanders' calls for T&T, Guyana and Suriname to look to new partners to enhance trade relations and aid their own economical development.
Referring to Sanders' remarks about "Caricom's final slide to oblivion,"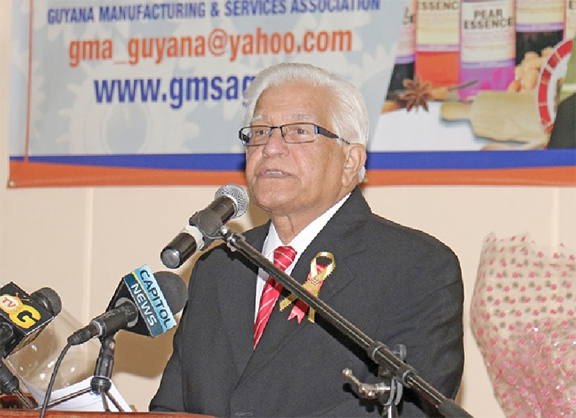 he told local businesspersons and others on Thursday evening, "…My advice would be to consider seriously his suggestion…" He said the three countries might well find it beneficial to integrate their own economies more deeply and to jointly pursue arrangements with Brazil, Venezuela and other Latin American nations. "Now is the time," Panday said, as he delivered the feature address, 'Perspectives for the Future of the Caribbean Economic Integration – Challenges and Opportunities' at the Guyana Manufacturing and Services Association's (GMSA) fiftieth anniversary dinner and awards at the Pegasus Hotel.
While Panday, 80,  did not pronounce on the fate of Caricom, he laced his presentation with dismal predictions and statistics from persons such as former Jamaican Prime Minister Bruce Golding, UWI Professor Norman Girvan, former Grenadian Prime Minister Tilman Thomas and Sanders among others.
However, he stated that it would be unfair to say that the integration movement has been a total failure. "…Some of the goals have been more successful than others and some benefited more than others," he asserted.
He used statistical data on Caricom's imports and exports to emphasise that some benefits have not been equal. "To summarise, in 2011 Trinidad and Tobago's imports were 4.18%, while its exports were 77%; Jamaica's imports were 30.41%, while its exports were 2.59%; Guyana imported 16.15% and exported 5.27%…," he stated.
"What these figures reveal is [that] the benefits of integration have been very one-sided… This unequal development has been one of the constraints to deeper integration of Caricom… There has been an almost total failure to help one another develop their economies.
"Harmonization of statistics demands, or necessitates, that there is common data with harmonized or equivalent definitions that can be reliably compared across all member states. With the creation of the Caricom Single Market and Economy (CSME), the achievement of harmonization of statistics is a crucial concern at the regional and national levels.
"The monitoring of the performance of the CSME, which is sadly lacking, is only possible if there is a core set of statistics that are accurate, comparable, reliable and timely," the former T&T prime minister further asserted.
His recommendation to Caricom is to integrate a diverse area in a manner that will meet individual country and regional development goals, in an equitable and mutually supporting way, without negating national identities and aspirations.
Comments

(Trinidad Guardian) Education Minister Anthony Garcia says the University of Trinidad and Tobago (UTT) is of the view that the organisation is "overstaffed and to run the university efficiently it will mean they have to trim fat." But former Tertiary Education Minister Fazal Karim is warning that the decision to retrench 287 staff members, will "compromise the quality of teaching and learning and administration at the university," and may impact its accreditation with the Accreditation Council of Trinidad and Tobago (ACTT).

In preparation for Guyana's emerging oil and gas sector and the bustling business usually synonymous with the industry, the Pegasus Hotel is expected to undergo a huge expansion which includes office and residential rental spaces.

Police Commissioner Seelall Persaud is to resume his duties today after spending approximately six months on leave, Public Security Minister Khemraj Ramjattan yesterday confirmed to Stabroek News.
The Alliance For Change (AFC) yesterday launched a scathing attack on the union GAWU, accusing it of decades of sabotage of the sugar industry and not genuinely representing the interests of its workers.

The importance of foot health, especially for persons with diabetes, was emphasized by Podologist Yvonne Braithwaite yesterday, when she launched the local leg of Rovon Health Care Inc, which includes a foot spa.