The Guyana Sugar Cor-poration needs to cut its losses and diversify the industry by getting into ethanol production, according to industry expert and member of APNU, Tony Vieira.
Vieira, a former PNCR-1G MP, yesterday proposed that GuySuCo seriously consider ethanol production at the Skeldon factory citing the low quality canes, "amateurish mechanization" and poor field conversion among other issues surrounding dismal sugar production over the last few years. He said that instead, GuySuCo could begin ethanol production with the ultimate goal of getting into aquaculture farming.
Vieira stated that while Guyana could not compete regionally with ethanol production, the costs associated would allow for the development of aquaculture farming, which Guyana could seek guidance on from Ecuador, the largest producer in the region. He noted that Skeldon was set up excellently to allow for "perfect 10-acre ponds" and added that Guyana grosses US$7 million a year from 300 acres of aquaculture farming. He said that "It doesn't mean to say that the sugar workers would not have a job because they could work in the aquaculture system and this is something that could bring wealth to the nation".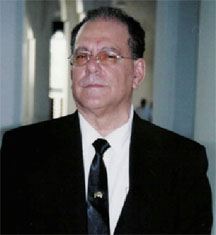 Vieira was addressing a press briefing held at the APNU headquarters when he said that sugar was an industry on its last breath and "high rainfall, high tonnes of canes to make a tonne of sugar (TC/TS), long periods of getting the cane to the factory and shortage of labour," were just a few of the reasons diversification was essential to cease the haemorrhaging of finances by the state-owned corporation. Huge subventions have been provided by the state in recent years to GuySuCo which has returned big annual losses.
Vieira said that no matter the cane quality "one tonne of cane will always produce 10 gallons of ethanol".  Ethanol produced would have to be done so at the same price as gasoline. Vieira said that "given how Skeldon is performing I would say…it would be far better if Skeldon were producing … ethanol. I say that because the canes of Guyana are very vegetative and they are taking a long time to harvest and grind."
He said that the length of time cane took to be crushed, rendered the TC/TS at Skeldon to be 29 or in some instances higher, while the industry average was around 12 TC/TS.
Exclusive EU Sugar Market
Vieira ventured that Guyana could forgo Skeldon and focus on the more successful estates. He said there was no need to aim for sugar production beyond 350,000 tonnes annually. He said that Guyana could sell sugar exclusively to the European Union at the specialised pricing and import the 40,000 tonnes annually consumed.
He added that Guyana could sell sugar to the EU for US$700 per tonne and buy regionally for US$400 per tonne, making a profit which could gross up to $2 billion annually. He said that time and time again GuySuCo has missed an opportunity to revolutionise the industry and instead since the 2001 Strategic Plan, the corporation failed to see that the EU Sugar Protocol (SP) was under threat.  He said that when it was announced that the SP would soon be coming to an end "while everybody was contracting their industry we were expanding ours without having regard to the fact that we are not an economic producer". He said also that GuySuCo  was producing at double what the world market price was which meant that the construction of just one behemoth sugar factory, Skeldon, could not save the industry from implosion.  The Chinese-built Skeldon factory has been riddled with problems since it entered production in 2009.
Skeldon
Vieira said that "there has been a systemic starvation of funds to the other estates to keep the Skeldon project going". He said that former Agriculture Minister Robert Persaud saw it fit to withhold  funding for the industry from the EU's Financing Agreement for the Guyana National Action Programme on Accompanying Measures on Sugar. Since the GNAP programme began in 2006 the EU has provided over $26.5 billion (€91.5M) as Sector Policy Budget Support.
Vieira said GuySuCo was beyond help especially the US$110M Skeldon factory which was part of a US$200M modernisation programme championed by former President Bharrat Jagdeo. Vieira noted that the mechanisation was done so poorly that the type of cane Guyana grows and the soil moisture was never taken into consideration prior to purchasing mechanical harvesters. Vieira said that just 1.25 inches of cane rendered mechanical harvesting at Skeldon impossible. He said that instead of recognizing that mechanisation was flawed in 2004, GuySuCo extended Skeldon fields by an additional 20,000 acres including 10,000 acres to be farmed privately.
"So now we have 30,000 acres without establishing where the money will come from to do this expansion. How you  are going to reap the additional canes because there is a shortage of  labour in the industry and what is going to be the cost of all of this", Vieira asked. The former Administrative Manager of GuySuCo and a trained agronomist said that "without putting in a single new koker, a pump or widening any drains" Skeldon increased its field capacity by 200 percent, leading      to disastrous agronomic effects.
Comments

Farha Faiz, a lawyer, speaks with the media after a verdict for the controversial Muslim quick divorce law outside the Supreme Court in New Delhi, India August 22, 2017.  

Defeat Tallawahs by 37 runs Chris Gayle, playing in his 50th CPL match, produced his 63rd T20 fifty as St Kitts & Nevis Patriots cruised past Jamaica Tallawahs by 37 runs to guarantee a place in the playoffs for the first time in their three-year history.

The Guyana Football Federation (GFF) has officially selected the Boys and Girls teams which will represent the nation at the Inter-Guiana Games (IGG) Goodwill Series scheduled for Suriname from the August 25th– 27th.

The Commission of Inquiry (CoI) into African ancestral land ownership began hearings yesterday with a significant portion of the first day's proceedings being dedicated to questions pertaining to the allocation of lots in the controversial 'Pradoville 2' Housing Scheme.