Over 300 residents of the Crabwood Creek, Corentyne area benefitted from free medical care last Sunday when the Guyana International Relief Organisation (GIRO) conducted an outreach.
The clinic which was held in collaboration with the Ministry of Health and the Guyana Chest Society saw patients who were suffering conditions including diabetes, hypertension, renal failure, eye diseases and stroke.
A release from GIRO said "It was very heartening to see many old and young persons coming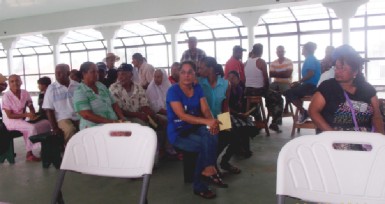 out to benefit from this project… The response was excellent."
It said too that the outreach "not only provided free medical care, including medications and advice but also clothing for families."
The team of medical personnel comprised "six doctors, one medic, three pharmacists along with many nurses and other volunteers." They also visited the homes of 14 bedridden patients and provided them with free medical services.
At the end of the event, medical supplies were donated to the Skeldon and New Amsterdam Hospitals.
GIRO, a non-governmental organization also held a successful blood donation drive through the New Amsterdam Blood Transfusion Unit on the same day.
The organization also expressed gratitude to the "doctors, medical personnel and volunteers, the medical authorities in Region 6 for their assistance, the hosts (Mr & Mrs Prasad), the people who took the opportunity and responded well."
It was also grateful to the donors Twins Manufacturing, SSP International, Best Buy Pharmacy, the Ministry of Health and Food for the Poor and other companies and individuals.
Comments

The Guyana Power and Light (GPL) says that just after midday today, three armed bandits stormed its Parika Customer Service Centre; robbing the location of all revenues received up until that time, holding the  staff and customers at gun point and disarming a security guard of a gun.

The Management of Cheddi Jagan International Airport Corporation (CJIAC) is currently undertaking a massive expansion project  and a Temporary Arrivals Terminal Building was recently constructed.

Tourism Minister Shamfa Cudjoe announced the decision to close the company. (Trinidad Express) The Tourism Development Company (TDC) has ceased operations.

Cevons clearing city garbage WPA STATEMENT ON THE UNRESOLVED ISSUE OF GARBAGE COLLECTION IN THE GEORGETOWN MUNICIPALITY The WPA is deeply concerned that the Georgetown City Council's inability to honour its financial obligations to Cevons Waste Management and Puran Brothers has the potential of endangering the health and lives of citizens.
British High Commissioner to Guyana Greg  Quinn  yesterday said that it was hoped that more would have been done to push the constitutional reform process forward.