The police will be sending DNA samples collected in the murder of Paradise teen Patricia Younge to neighbouring Brazil for testing, according to Crime Chief Seelall Persaud who says that a second person of interest is still being sought.
Contacted yesterday, Persaud explained that there has been no further developments in the case but the search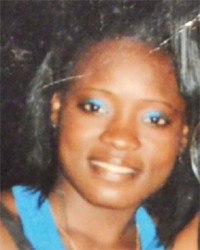 for the person of interest continues. He said that a sample for DNA testing has been collected from the dead woman's 23 year old reputed husband.
That sample is to be sent to Brazil under a recent arrangement between the two countries for testing. The first batch of samples left the country for a lab in Brasilia, Brazil last month and according to Persaud the Force has not yet received those results.
Due to the state of Younge's body when she was found, it was suspected that she had been raped before she was killed and her body buried in a shallow grave.
However, this was not confirmed during the post-mortem examination. Relatives had been told that they would have to wait between three weeks to a month for this information.
The woman's reputed husband was detained shortly after the discovery but was subsequently released.
Younge was last seen when she left her Paradise, East Coast Demerara home, to view the Mashramani festivities in George-town.
The body of the former waitress of the Bettencourt Restaurant, on D'Urban Street, was found three nights later in the shallow grave in the Paradise cemetery after a search was launched for her. Her reputed husband had informed relatives that she was missing.
The cause of death was given as strangulation.
Comments

A jet plane flies by the total solar eclipse in Guernsey, Wyoming U.S.

Superstar opener Chris Gayle … returns to the West Indies side for the first time in over two years.

The Church Street hotel and casino Hotelier Clifton Bacchus today filed a $2 billion lawsuit against the state-owned Guyana Chronicle newspaper following its publication of two recent articles which he has described as "highly defamatory." Guyana National Newspapers Limited, which is the publisher of the Guyana Chronicle, and the editor of the Guyana Chronicle were listed as the defendants in the suit, which was filed by a team of lawyers headed by former Attorney-General Anil Nandlall.

LONDON, (Reuters) – The gradual decline of West Indian cricket is hardly a new phenomenon but the latest capitulation of a once-dominant test match power has brought genuine expressions of sadness throughout the sport.

Eleven residents of the juvenile correctional centre at Onderneeming on the Essequibo Coast were apprehended between yesterday and this morning.