The role of the community in preventing the downward spiral of children in danger of falling through the cracks was highlighted yet again in the case of 14-year-old Andy, who was killed last week after a truck ran over him as he lay sleeping on the Foulis, East Coast Demerara roadway.
It would appear that with the death of his mother when he was just two years old, Andy was destined for a life of poverty, neglect and no access to basic education. A post-mortem examination revealed that at the time of his death he had drugs and alcohol in his system.
His aunt Ramrattie Ronie, who he had lived with for about 11 years,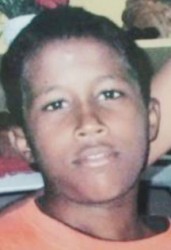 identified him as Andrew adding that they would also call him Andy. She was unsure of his last name and said she was told it might have been Motie.
Ronie told this newspaper that Andy's mother died in an accident when he was only two years old, leaving him and a sister behind. Ronie said she did not know who Andy's biological father was but that his stepfather now lives abroad. The sister, who is now around 22 years old, Ronie said, is married and has two children.
Ronie explained that Andy's mother and her husband were siblings and it was her husband's family who first took Andy in after his mother died. She said that after about a year and a half they took him to her home saying they were unable to keep him.
She decided to keep him but from early on was confronted with a problem – she had no birth certificate for the child which would allow her to enrol him in school.
Based on what she said Andy's stepfather had his birth certificate and his sister was to try and retrieve it. From all indications she was unsuccessful as up until the time of his death, he had never gone to school.
Ronie said she tried her best with home schooling him. She said she taught him his name and how to spell and to count.
The woman explained to this newspaper that sometime back she got a job which required her to leave the home; she would leave Andy at home while she was at work.
Based on what this newspaper was told Andy left his aunt's home last August and when he did, Ronie went to the Enmore Police Station and lodged a report. She said the police asked her where the teen was and she told them he was at Beterverwagting (BV) where one of her relatives lives. Andy was not related to that person. Some two weeks later, Ronie went to BV for her grandmother's funeral and saw Andy in the burial ground.
The next time she saw him was sometime late in February when she fell ill and he visited to see how she was doing. A week later he was dead.
Ronie said she had never seen him in Foulis once he left her home, but following his death persons came forward and said they had seen him.
Protectors
Head of the Child Care and Protection Agency Ann Greene said Andy's death might have been avoided if Social Services had been informed of his situation. She added that this case underscores the importance of communities acting as the protectors of children.
Noting that the case was not only hurtful but also sad, she said the agency will be intensifying public outreaches as from all indications the awareness level that is desired has not been achieved. This is despite numerous media initiatives and the distribution of flyers and other material about the rights of children and how they should be protected.
Greene questioned why members of the community chose to turn a blind eye to Andy. It was reported after his death that the child would sleep under a truck and would engage in delinquent behaviour which included consuming alcohol and stealing.
Greene said it was apparent that enough was not done to help the teen.
"Had they contacted us there was so much that we could have done," she said adding that matters not being reported was among the challenges the agency faces.
According to Greene, she and her officers cannot do the job alone and the assistance of people or groups within communities was needed. She stressed that no one took steps to help Andy and questioned why he was not handed over to the police after reportedly being caught stealing.
The CCPA only became aware of Andy after his death when the story appeared in the newspaper. She said that almost immediately it was decided that the community would be visited, along with others, and there would be practical education on the protection of children. She pointed out that there were so many ways persons could have reported Andy's situation including calling the CCPA's hotline number and visiting the office.
Greene urged that anyone who knows of a situation where a child is being abused or neglected should inform the agency so that action could be taken to prevent serious injury or death.
"It is really sad… there is so much work for us to do," she said while stressing that a team will be sent to speak to the teen's relatives.
"Every adult is a child protector. …I am appealing to communities to come forward if they know of a child who is exposed to this level of abuse," she said.
Among the areas in which work is being done, she said, are the West Demerara, Linden, Berbice and parts of the East Coast.
Anyone wishing to report any incident involving a child can do so on 227-0979, the agency's hotline telephone number.
Degradation
Human rights activist Karen de Souza, in an invited comment, spoke of the need for communities to address concern for children. While the CCPA has a hotline, she said, it is unclear how much is known about the agency countrywide.
She noted that every community knows how to contact the police and as such this could have been the place to start. "I think that there is a mindset that we are not going to take responsibility as adults because it is not somebody that is close to me or related to me and that is a very unhealthy situation," she said.
She recalled the days where a civic-minded citizen could have gone to a policeman, a teacher or a health worker with a situation such as Andy's.
"It is just not acceptable and it is horrible. It speaks to the degradation of us as a people," she said.
Asked what can be done to prevent another Andy, de Souza said society needs to be prepared to take the time to draw attention to children who might be in danger. "These are the most vulnerable people in our society and if the adults in society are not prepared to take responsibility for them, then what are we?" she asked.
Psychologist Dr Faith Harding told Stabroek News in a recent interview that there are more cases like Andy's out there than anyone could imagine. Bad treatment, abandonment, punishment, lack of communication, single parent household and neglect are some major reasons why a child his age would want to leave his home, she added.
"We are not taking care of our children. We, as a society, have abandoned our young people. We have destroyed a lot of lives. We are rearing a lot of criminals…," she said, adding that these issues can be addressed by focusing on the school system, engaging in parenting and moral education and human rights.
Comments

Eighteen prisoners at the Lusignan penitentiary were being treated for injuries last night following a reported attempt to kill a fellow inmate during which warders fired shots.

A 12-year-old girl is now dead, while her brother narrowly escaped a similar fate yesterday after their aunt's La Bonne Intention (LBI), East Coast Demerara house, which they were under, collapsed on them.

Guyana has officially applied for membership in the European Union's Extractive Industries Transparency Initiative (EITI) which will help in tracking revenues from oil and other natural resources.

State Minister Joseph Harmon yesterday reiterated that President David Granger's directive to the Police Service Commission to halt its consideration of promotions was intended to prevent damage to the image of the Guyana Police Force but he could not say under what authority the head of state acted.

While saying that a strong security presence along the country's borders is the first line of defence against transnational criminal syndicates, President David Granger yesterday called for cooperation by all actors to see the security of Region Nine as a priority.