DPP advises prosecution of 'wrongfully charged' woman
The case against Alana Taylor, the single mother of three implicated in a robbery on Lime Street last week, is going full steam ahead following the advice of the Director of Public Prosecutions (DPP).
Taylor, 35, made her fourth appearance in a week before Magistrate Judy Latchman along with her co-defendants Peter McKenzie, 23, of 298 Meadowbrook Squatting Area and Aniki Rogers, 19, of 191 Meadowbrook Gardens.
The three had been charged for allegedly committing an armed robbery on Elizabeth Hendricks, robbing her of $341,000 worth of items on March 2. Since being charged on March 5 with the crime, all three accused had been on remand until Tuesday when Taylor was granted $80,000 bail from the High Court.
During the trio's arraignment last week, Prosecutor Vishnu Hunt had indicated that the woman was wrongfully charged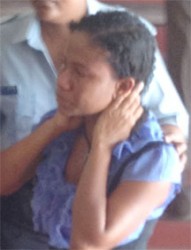 and that he had received instructions which vindicated her instead. He had added that the prosecution would actually want to use Taylor as a witness in the armed robbery case. However, the police's attempts to get word from the DPP on how to proceed were unsuccessful until yesterday owing to outstanding police statements.
During yesterday's proceedings, Prosecutor Joel Ricknauth indicated that he had received instructions from the DPP to proceed with the charge against all three of the defendants. Ricknauth also requested the application of the Administration of Justice Act.
The application presented the defendants with the opportunity to have their matter completed within the Magistrates' Court instead of the High Court in front of a judge and jury. The application also required them to plead to the charge when it was re-read to them. All three of the defendants pleaded not guilty when given an opportunity to do so.
Attorney-at-law Dexter Todd represented Taylor on lawyer Mark Waldron's behalf and also made bail applications for McKenzie and Rogers. Todd emphasised that there had been no evidence brought before the court to suggest that McKenzie and Rogers would not make themselves available to the court when prompted to do so.
When Prosecutor Ricknauth objected to the men's bail once again, citing the nature and prevalence of the offence as his reasons, Todd rebutted that the prosecution had already convicted his clients with the stated objections.
Bail was nevertheless refused for the men. However, Magistrate Latchman reminded the lawyer that bail applications could be submitted to the high court.
The three accused will make their fifth appearance before Magistrate Latchman today at 10 AM for the filing of further statements.
Most Read This Week