Two men were remanded to prison when they appeared at the Reliance Magistrate's Court yesterday charged with murdering a woman at Fyrish, Corentyne.
It is alleged that around 10:30 pm on Friday, March 7, Antonio Balrup, 20, of Edinburgh, East Bank Berbice and Solomon Milton, 23, of Nigg, Corentyne murdered Patricia Samaroo, 57, of No 2 Road, Canje.
Magistrate Sherdell Marcus-Isaacs ordered the defendants to return to the Albion court on March 25. They were represented by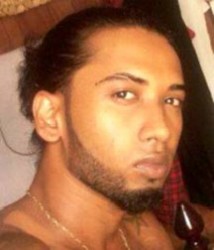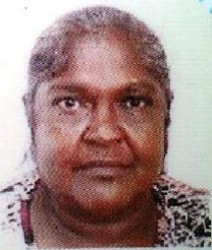 attorney-at-law, Mursaline Bacchus. While Balrup showed no emotion, Milton kept crying and maintaining his innocence.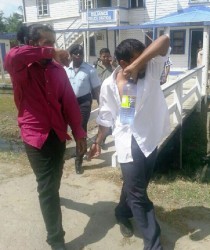 Balrup, an ex-policeman was said to be driving the getaway car for two men who entered the home and reportedly fatally shot Samaroo to her head.
They also reportedly shot her younger sister, Annetta Samaroo, 45, to her abdomen and she has been hospitalized.
A post-mortem examination confirmed that Samaroo died as a result of shock and haemorrhage due to gunshot injuries.
Annetta was shot after she reportedly recognised the man who fired the shot and called out his nickname. He remains at large.
The two men reportedly barged in around 10.30 pm and shouted "police!" After firing the two shots, the men hastily left the house.
Police said that a quick response by ranks led to the getaway car being detained.
Comments

Michael Bhopaul, 16, doesn't know if he is this year's best performer at    the Caribbean Secondary Examination Certificate (CSEC) Examinations, but with preliminary results showing that he has obtained passes in 25 subjects, he will be hard to top.

Inmates at the Lusignan Prison turned over 33 improvised weapons yesterday morning to prison authorities, who say that they also apologised to the prison staff for the unrest at the facility on Friday night.

Well known Berbice attorney Chandra Sohan was arrested on Friday after he allegedly struck a pedestrian in a hit and run accident along the Williamsburg Public Road.

For a little more than an hour yesterday, the streets outside the Mackenzie Market rang with the voices of dozens of Linden residents who turned out to support a march against homosexuality.
The woman killed during the violent storm in Jawalla, Region Seven on Friday, has been identified as a mother of two, who was seven months pregnant.