A logger was yesterday charged with duping two men of nearly $700,000 by failing to deliver promised wood to them.
Everton Monteque, 49, of 263 Independence Boulevard, had allegedly promised Terrance Persaud and Steve Ollivere, in July 2013, that he would supply and deliver the fruit of his labour to them, earned from logging in the Mabura area.
According to Prosecutor Deniro Jones, Persaud hired Monteque on July 2 to take wood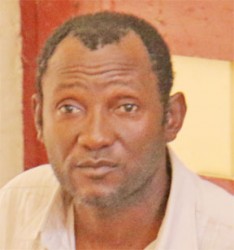 to his under-construction home in Better Hope. An agreement was struck between the men and Persaud paid Monteque $400,000 in advance.
On July 3, Jones added, Ollivere paid $250,000 to the defendant for the delivery of wood to his home in Sophia.
However, Monteque failed to deliver the promised wood to either man's homes and the matter was subsequently reported.
Monteque pleaded not guilty when the two charges were read to him by Magistrate Ann McLennan.
Prosecutor Jones raised no objections to bail; however, he requested that it be set in a substantial amount and on the condition that Monteque lodge his passport and report to an assigned police rank regularly.
Magistrate McLennan acceded to the prosecutor's requests and granted the defendant bail in the sum of $150,000 on each charge. He was also ordered to report each week to the Brickdam Police Station. He is set to make another appearance on April 3 before Chief Magistrate Priya Sewnarine-Beharry.
Comments

Vamanadev Hiralall, of the privately-run Saraswati Vidya Niketan (SVN), is the country's top performer at this year's Caribbean Advanced Proficiency Examinations (CAPE) after achieving an accumulated 13 grade one and 3 grade two passes.

Twenty-six students in the top one percent of the 12,684 who sat this year's Caribbean Secondary Education Certification (CSEC) examinations earned 12 or more Grade I passes, with half of them, including the top performer, coming from Queen's College (QC).

On the second day of the Commission of Inquiry (CoI) into African ancestral lands and other matters, four witnesses made cases for the return of lands they feel they are rightly entitled to, which were either taken by the state or occupied by private owners.

Shelton George, the man charged with both murdering a waitress at a Chinese restaurant and the attempted murder of a magistrate, was found dead in his cell at the Lusignan Prison yesterday morning.

The Chairman of the Triumph Neighbourhood Democratic Council (NDC) yesterday instructed workers employed on a private site, reportedly intended to build a first-floor pool, to cease operations, just two days after residents called on authorities to halt its construction.