A trip to the Guyana National Stadium, Provi-dence yesterday for Phagwah festivities was aborted after a driver lost control of his vehicle, which toppled leaving one person dead and several seriously injured.
Dead is Wazir Khan also known as 'Egg Ball', while, Brandon Rahaman;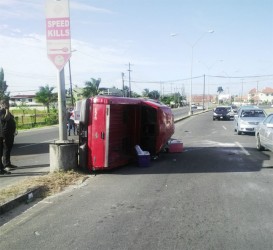 Anthony Singh, 21; Gabriel Husain, 17; and seven others were injured.
The 11 friends were on their way to the stadium where Inspire Inc was hosting a Phagwah celebration, but instead found themselves toppling in a Ford pickup. The accident occurred at Houston, East Bank Demerara at approximately 3 pm.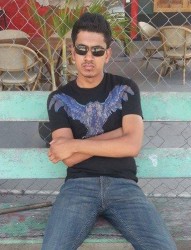 According to an eyewitness, the Ford pickup was heading south along the road at a fast pace, when one of its tyres blew out, sending the vehicle tumbling about three times, before it stopped on the median of the carriage way.
Rahaman, who was driving the vehicle, told this newspaper that a passenger in the vehicle threw powder, which marred his vision. He said Khan attempted to wind up the window, but it was too late.
Rahaman said he tried to apply his brakes, after he realized he could not see, but before he knew it, the vehicle was rolling. He dismissed claims that he was under the influence of alcohol.
Meanwhile, at the Georgetown Public Hospital (GPH), relatives of a 16-year-old girl injured in the accident, criticised staff there for the ignoring her.
The relative said the girl, who was seen crying and with her right leg wrapped in a bloodied bandage, had fainted in the hospital bathroom after she was informed that she had to wait for medical treatment.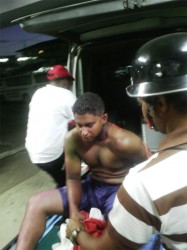 She was seen exiting the GPH compound, after the irate relative vented her disgust at the service being offered at the public hospital. She opted to take her injured relative to a private hospital.
Meantime, last evening the GPH became overrun with people who kept turning with injuries from accidents; most of them were adorned with coloured powder.
Shivendra Sookram, 19, arrived at the GPH, after he was struck down by an alleged drunken driver, at Meten-Meer-Zorg. He was unable to give an account of exactly how the accident occurred. "I just know I get knock down," he said. He was being aided by his wife.
Then another man collapsed and burst his head, while awaiting medical attention. According to reports he had been involved in an accident at Industry, East Coast Demerara yesterday afternoon. Another man arrived in an ambulance a few minutes later, shaking profusely. He was reportedly struck down by a vehicle somewhere in Berbice.
Comments

Defeat Tallawahs by 37 runs Chris Gayle, playing in his 50th CPL match, produced his 63rd T20 fifty as St Kitts & Nevis Patriots cruised past Jamaica Tallawahs by 37 runs to guarantee a place in the playoffs for the first time in their three-year history.

The Guyana Football Federation (GFF) has officially selected the Boys and Girls teams which will represent the nation at the Inter-Guiana Games (IGG) Goodwill Series scheduled for Suriname from the August 25th– 27th.

The Commission of Inquiry (CoI) into African ancestral land ownership began hearings yesterday with a significant portion of the first day's proceedings being dedicated to questions pertaining to the allocation of lots in the controversial 'Pradoville 2' Housing Scheme.

For another year, the opening of the National Toshaos Council (NTC) Conference was dominated by concerns about land rights, with Chairman Joel Fredericks yesterday calling out the APNU+AFC government for making decisions that affect land ownership without first seeking the Free, Prior and Informed Consent (FPIC) of affected Indigenous groups.