A well-known Canada-based Guyanese businessman of Brampton, Ontario died early yesterday morning along with his wife and one of his two sons after reportedly inhaling carbon monoxide from propane heaters which they were using indoors after their furnace stopped working in frigid conditions.
Dead are Peter Pitamber, 60, owner of the popular Calypso Hut in Queen Street, Brampton; his wife Seeta Pitamber, 59, and their son Terry Pitamber, 36.
"It's just a tragedy … a terrible situation," Peel Regional Police Constable Fiona Thivierge was quoted as saying in the Canadian press yesterday.
According to CBC news, at around 2 am yesterday, emergency services were called to a house by Jerry Pitamber, 29, who had arrived at his family's Linden Crescent home to find carbon monoxide detectors activated and members of his family unconscious.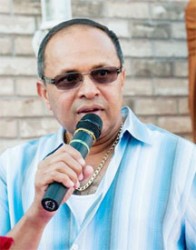 Five people inside the home were taken to hospital, where three were pronounced dead.
Two others were treated and have since been released. The other two persons were Paul Rampersaud, 56, Peter's younger brother, and a friend of the family. Paul Rampersaud owns a second Calypso Hut in Mississauga, Ontario.
At the time of the incident, the family had gathered at the Pitamber home to mourn the recent death of Paul and Peter's mother.
Distraught
Here in Guyana, Pitamber's brother Stanley Rampersaud, who also owns a Calypso Hut in Corentyne, Berbice and was the first to open this line of business in Canada, was too distraught to speak. His wife Radha told Stabroek News that the now dead man was well loved.
"He was a very well-liked person. He had the biggest heart in the world. There was nothing I could ask for that he did not give. In fact, I did not even have to ask," Radha said.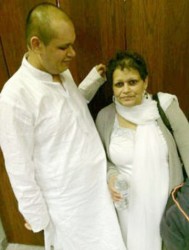 She recalled that her daughter recently got married and Peter had catered all of the food free of cost.
She said the brothers' father, Pitamber Rampersaud, died in 1973 and Peter being the oldest took on the role of father figure.
His father would have told him to be a father to his younger siblings and Radha said he fulfilled that role "until he took his last breath."
The woman, who also lives in Canada, said it was only on February 27 that the brothers lost their mother. Radha said she brought her mother-in-law's ashes home to Guyana for burial next to her daughter, who died 11 years ago. She said that was her mother-in-law's request.
She had planned to return to Canada come Saturday, but said with this tragedy she will remain here to support her husband. While the three will be cremated in Canada, she said, their ashes too, will be returned to Guyana.
Explaining the difference in the last names of the brothers, Radha said that Peter, who had visited Guyana just last July, took his father's first name as his surname.
Peter Pitamber migrated in 1976 and according to the woman it was her husband who would have opened the first Calypso Hut in August 1988, followed by another in May 1990, which is operated by Paul Rampersaud. The third location, owned by Peter Pitamber, was opened in January 1990. Stanley closed the first location in 2000 and re-migrated to Guyana where he opened a Calypso Hut, which he still operates today.
Meanwhile, Leader of the Alliance for Change (AFC) Khemraj Ramjattan, who is a relative of the family, yesterday described Peter as a "kind guy" who supported the AFC and would hold yearly fund raising activities for the party.
"He was one of the few businessmen, along with David Singh, who were brave enough to support the party openly," Ramjattan said.
He recalled that whenever he and his family travelled to Canada the man took good care of them.
"He was such a nice human being," the AFC leader said adding that while yesterday they would have been celebrating the Phagwah holiday they were in mourning.
'Unimaginable'
Paul Rampersaud issued a statement yesterday to the media and the following was published on the CBC news website.
"Today has been an unimaginable and horrific day for our family," it read. "The past few weeks have been extremely difficult, as we have been grieving the death of my mother who passed a few weeks ago.
"My brother, Peter Pitamber, came to this country from Guyana over three decades ago. From humble beginnings he became a respected businessman and active member of the Brampton community.
Peter built a strong home for his family, and we ask that you now pray for his surviving son, Jerry.
"We are currently in the process of making funeral arrangements and would ask that the media kindly respect our privacy during this devastating time."
Police believe the family's furnace stopped working on Sunday, and at some point, propane heaters were taken inside to heat the home. Overnight temperatures Sunday dipped to the –15 C range with the windchill making it feel like it was –20s.
Police said those who died were in the upper level of the home, while the survivors were on the lower level.
"We would caution people to not bring propane heaters into their house," said Thivierge. "It's a very dangerous situation."
Comments

(Trinidad Guardian) Education Minister Anthony Garcia says the University of Trinidad and Tobago (UTT) is of the view that the organisation is "overstaffed and to run the university efficiently it will mean they have to trim fat." But former Tertiary Education Minister Fazal Karim is warning that the decision to retrench 287 staff members, will "compromise the quality of teaching and learning and administration at the university," and may impact its accreditation with the Accreditation Council of Trinidad and Tobago (ACTT).

In preparation for Guyana's emerging oil and gas sector and the bustling business usually synonymous with the industry, the Pegasus Hotel is expected to undergo a huge expansion which includes office and residential rental spaces.

Police Commissioner Seelall Persaud is to resume his duties today after spending approximately six months on leave, Public Security Minister Khemraj Ramjattan yesterday confirmed to Stabroek News.
The Alliance For Change (AFC) yesterday launched a scathing attack on the union GAWU, accusing it of decades of sabotage of the sugar industry and not genuinely representing the interests of its workers.

The importance of foot health, especially for persons with diabetes, was emphasized by Podologist Yvonne Braithwaite yesterday, when she launched the local leg of Rovon Health Care Inc, which includes a foot spa.