Akeem Roberts was yesterday sentenced to ten years in prison by Justice Navindra Singh in the High Court for the 2012 stabbing death of a St George's Community High School student at a city lessons venue.
Roberts, 19, had been charged with the murder of 16-year-old Shane George in 2012, but pleaded guilty to the lesser count of manslaughter last month as his trial was about to start.
George of 143 Roxanne Burnham Gardens and Roberts were at Morgan's Learning Centre in Campbellville where they were attending lessons on May 16, 2012 when an argument, which started between them over brand name clothes, ended in George's death.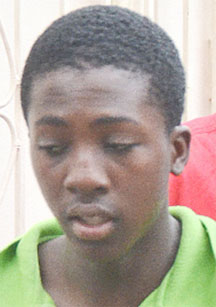 Handing down the sentence, Justice Singh started at 30 years; two years were deducted for the time Roberts was remanded; six years for his guilty plea; five years in favour of the probation report and another four years for the remorse he had shown to the court and to George's family.
Justice Singh said he also considered that within ten months of Roberts' incarceration he was elected to the position of a prison orderly at 18 years-old. "It is a sad situation. I understand schoolyard fights but a life has been lost. So I'm trying to be balanced in my decision because it's hard for me to determine a sentence for you," Justice Singh told Roberts before delivering his sentence.
Standing in the prisoners' dock, Roberts faced George's mother and family and apologized for the pain he had caused them. "I apologize and I'm very sorry for the pain I have caused… Please forgive me for what has transpired," he said.
State Attorney Dhanika Singh told the court that George never stood a chance when Roberts ran back with a knife and inflicted the fatal stab wound. 'The accused is a boy with a grudge, a jealous boy who disliked Shane for what he had and the kind of person he was," she said. "He was envious of Shane and his popularity. It is sad that he is young but it is what it is," she said.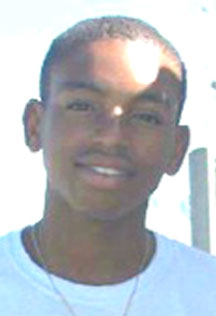 Addressing the court, she said what was done should not be condoned in any way while pleading for the gravity of the case to be considered. "Shane is six feet under," she said. Pointing to Roberts, she added, "but his family can see him."
Roberts' lawyer Mark Waldron said prison officials had observed Roberts' character to be contrary to the crime he was being accused of and as such the court should be lenient in sentencing him. He said Roberts has been attending an anger management programme.
"Prison officers said that if there is hope for a second chance they would recommend Roberts… Even though I sympathise with the family this is a case of two 17 year olds involved in a school fight," he said.
Justice Singh then sentenced Roberts to ten years in prison.
George's mother broke down in tears while his other relatives swiftly exited the courtroom. But Roberts' visibly frustrated and worried family burst into smiles, while Waldron embraced him before police carried him away.
According to reports from the teens' classmates, George would constantly taunt Roberts about his clothing. A teacher who witnessed the attack said that Roberts was being taunted as he walked into the learning centre compound. The teacher had said that he saw Roberts walk into the yard and collect a long knife and then start "firing stabs like he head ain't good."
A probation report read in the court said that Roberts had isolated himself from George's company after he observed him to be a person who would tease other children.
Comments

Farha Faiz, a lawyer, speaks with the media after a verdict for the controversial Muslim quick divorce law outside the Supreme Court in New Delhi, India August 22, 2017.  

Defeat Tallawahs by 37 runs Chris Gayle, playing in his 50th CPL match, produced his 63rd T20 fifty as St Kitts & Nevis Patriots cruised past Jamaica Tallawahs by 37 runs to guarantee a place in the playoffs for the first time in their three-year history.

The Guyana Football Federation (GFF) has officially selected the Boys and Girls teams which will represent the nation at the Inter-Guiana Games (IGG) Goodwill Series scheduled for Suriname from the August 25th– 27th.

The Commission of Inquiry (CoI) into African ancestral land ownership began hearings yesterday with a significant portion of the first day's proceedings being dedicated to questions pertaining to the allocation of lots in the controversial 'Pradoville 2' Housing Scheme.