A domestic abuse incident left three people injured and seeking medical attention at the Georgetown Public Hospital on Wednesday evening.
32-year-old Jevon Easton of 193 Better Hope South, East Coast Demerara was forced to seek treatment for injuries to his head after he confronted the man who attacked 27-year-old Angelina Daniels and her brother, both of Plaisance. Daniels received treatment for a bite to her left cheek area, while her brother had several lacerations about his face and other parts of his body.
The man who attacked Daniels and Easton is the father of Daniels' daughter, and she said that she broke up with him several months ago because "he always keep abusing me and keeping me away from my family and he always knocking me."
After not hearing from him for about a month, the man turned up at her place of work and demanded that they get back together.

Daniels said she refused and sent the man away, but that he left and returned with their daughter who he took from the care of her sister. She said that he brought their daughter in an effort to bribe her into getting back with him because he knows she would do anything for her daughter. But instead of leaving with the man, Daniels said that she pleaded with him to take her daughter back to her sister, which he did. However, he later returned and proceeded to wait for her to leave work.
The woman said she was afraid to leave, and so called the police to intervene. Police ranks reportedly arrived and took both parties to the Brickdam Police Station where statements were solicited from each. Daniels was released after giving her statement, and police ranks informed her that they would detain the man and release him yesterday morning.
Daniels said that whatever relief and security she felt after the police said they would keep the father of her child soon left her when he called her at home around 21:00 hrs. on Wednesday night.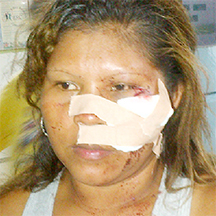 "He told me he want me to come back home because he can't live without me, and I tell he that he have to change his ways first cause I can't live like that," Daniels related.
Upon hearing the woman's refusal of his offer the man allegedly threatened to kill her, himself, and their child if she continued to refuse him. Her response was "do what you want." The woman explained that she was frustrated at the situation, particularly since the police said they would keep her child's father, but then released him.
The situation escalated quickly when the man turned up at Daniels' sister's home in Plaisance where she currently resides with her brother-in-law and her daughter. She said her child's father began calling for her brother who refused to answer him. The man nevertheless refused to leave, and when Daniels' brother opened a door to use the toilet, the man jumped the fence, rushed into the house and headed straight for Daniels.
"He run and hold me and bite me on me face," she told Stabroek News. A brawl ensued after Daniels' brother-in-law and sister rushed to her aid. She said that the scuffle was so violent that a section of the house they are staying in was knocked down.
Eventually, Daniels said that the man managed to overpower her brother-in-law, and threw her from the stairs before making his escape.
While attempting to escape the scene, the man was spotted by Easton, who is a soldier. Easton reportedly tried to apprehend the man and take him to the Sparendaam Police Station. Instead, Easton was knocked unconscious after the man dealt him at least one blow to the left side of his head with a "big piece of wood."
Comments

Left-arm spinner Ashmead Nedd … picked up a couple wickets in Guyana's win.  

Jerry Lewis   LOS ANGELES,  (Reuters) – Jerry Lewis, the high prince of low-brow comedy on stage and in movies as well as a fund-raising powerhouse with his annual Labor Day telethon, died today of "natural causes" at the age of 91, his family said.

Beharry Automotive Limited (BAL) , the authorised distributor for Toyota parts and lubricants, says that an abundance  of imitation Toyota parts and lubricants have entered the market with the Toyota logo and trademark.

Grace Mugabe   HARARE,  (Reuters) – Zimbabwe's first lady Grace Mugabe returned from South Africa early today, state media reported, after a 20-year-old model accused her of assault in an upmarket Johannesburg hotel room.

Michael Bhopaul, 16, doesn't know if he is this year's best performer at    the Caribbean Secondary Examination Certificate (CSEC) Examinations, but with preliminary results showing that he has obtained passes in 25 subjects, he will be hard to top.