The University of Guyana Senior Staff Association (UGSSA) and the UG Workers' Union (UGWU) have filed a writ against the university over the non-payment of workers' benefits and remittances of their tax and insurance contributions off campus.
Staff yesterday also protested the late payment of salaries. Over 50 protestors stood in the parking lot of the Education Lecture Theatre on the campus shouting for the removal of Vice-Chancellor Jacob Opadeyi, while UGSSA President Dr Pasty Francis accompanied a marshal of the court who served the summons on the VC.
A writ filed in the High Court claims damages in excess of $100,000 for fraudulent conversion of UGSSA and UGWU members' salaries and wages including deductions for NIS and pay as you earn (PAYE) between January and March 2014.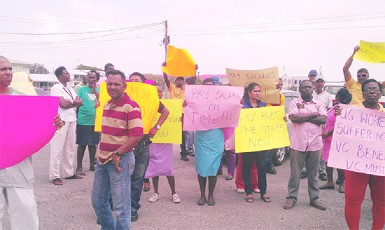 The endorsement of the claim also seeks damages in excess of $100,000 for breach of statutory duty to remit deductions from the plaintiffs' members' pay for NIS and PAYE as mandated by the Provision of the Income Tax Act and the National Insurance and Social Security Act Chapter 36:01 of the Laws of Guyana, costs, interest and such further or other order as the court deems just.
The university has been ordered to cause an appearance to be entered on its behalf in response to the suit within 10 days.
The unions are being represented by attorneys Nigel Hughes and Kendaise Rodney.
Opadeyi did not address the issue of the non-payment of workers' leave passage and contributions, including NIS, health insurance and credit union dues when questioned by reporters. Stepping out after the signing of eight research grants for researchers to conduct Low Carbon Development Strategy-related studies at the university, Opadeyi said he was not aware of such an issue and needed to speak to UG's accountant.
He was followed by scores of demonstrators who demanded his removal from the university while chanting, "We want our money now," "No money no work," "UG workers suffering while VC benefitting" and "VC must go".
Vice President of the UGSSA Mellissa Ifill said the university's failure to make payments while continuing to deduct money from salaries was unacceptable and the VC should allow someone else to take his position if he was unfit to run the university.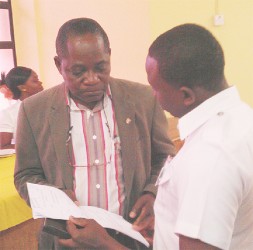 She said contributions and salaries were extremely late thus burdening workers with unwarranted hardship. "We intend to continue until we get our demands met. This is not the first instance it is an ongoing issue. It's poor management of the resources of the University of Guyana and the VC needs to do better," Ifill said. She added that the governance style of Opadeyi was also of great concern, accusing him of "operating like a dictator.
"He is changing a lot of our long established rules and regulations that have worked effectively for us in the past so we will continue to resist him… He should allow someone else who has the capacity to manage the place and take up his position", she said.
She noted that the university was in a precarious financial position but the administration has been failing to communicate with staff.
Bruce Haynes of the UGWU said the university would issue pay slips, but not put their money in the bank. "It is an embarrassing situation. The expectation of staff is that the administration should be upfront about the issues that they face. We have issues we are dealing with it and there is no communication," he said, calling on the VC to give them clear-cut answers.
"The embarrassment of going to the bank and not seeing anything is very disappointing. The financial situation of the university is so uncertain that deductions are not paid in a timely manner. And the thing is the administration has been alerted to the fact that they had to correct this anomalous situation but there has been no satisfactory answer to the situation," he said.
Dr Francis said: "The university is just falling apart and we are paying such a large amount of money every month to very high officials. As a Guyanese, I am outraged that I am standing by while the university goes to utter ruin. If the government does not have confidence in the VC let him go. Let him go. We will be better staying here and drown by ourselves than drown paying for it. We cannot do it. We ain't doing anymore.
"So with the Writ we are taking the university to court because we can't do this anymore. The people of Guyana deserve better; every month is the same thing." Francis said she had called the VC on Thursday and he promised that the money was in the bank and she trusted his word. It turned out that that was not the case.
Francis said staff became agitated and many did not have money to return home.
English Lecturer Gentian Miller said it was a ridiculous situation they found themselves in every month. "We can't go on like this. Lecturers have children to feed and loans to pay…," she said.
One worker said she did not have money to travel to work every morning and the late payments were putting a strain on her. "Right now I don't have money. I shame to talk but my neighbour had to give me money…. I worked here for 21 years. The money that we are working for is very little…," she said.
A staff member from the Faculty of Natural Sciences lamented that the integrity of the university is at stake.
Comments

Fifteen city councillors voted yesterday in favour of accepting the recommendations of the parking meter renegotiation committee, which would see a reduction in parking fees to $150 per hour, exemptions for religious organisations and schools, and Smart City Solutions (SCS) giving up on their claim to garage parking.

A GDF rank was yesterday remanded to prison over three armed robbery charges and alleged possession of an unlicensed gun and ammunition.
Minister of Natural Resources and Leader of the Alliance for Change (AFC), Raphael Trotman on Monday praised ExxonMobil for investing in the oil sector here and said it is now resulting in other important companies wanting to do business here.

The city lance corporal, who on Sunday allegedly shot and killed Marlon Fredericks, a mentally-challenged vendor, after he reportedly attempted to flee custody is to be charged with manslaughter.

Former Magistrate and Univer-sity of the West Indies (UWI) lecturer Christopher Arif Bulkan was yesterday sworn in as a temporary Appellate Judge by President David Granger who said that the appointment is part of efforts to ensure that justice is dispensed in an efficient and timely manner.