The Guyana Defence Force Coast Guard yesterday received three new Metal Shark Aluminum boats from the US Government valued at US$1.7M.
US Ambassador D. Brent Hardt said this represents part of a broader and more comprehensive regional security partnership through the Caribbean Basin Security Initiative (CBSI).
The keys to the three vessels, GDFS 1028, GDFS 1029 and GDFS 1030 were handed over by the ambassador to President Donald Ramotar at a simple ceremony yesterday at the Coast Guard Headquarters, Ruimveldt. The GDF Coast Guard is also expected to receive two more vessels.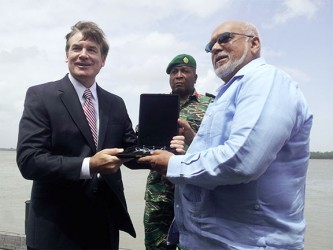 The boats have a capacity for 6 seated persons, 12 maximum; are fitted with machine guns and have a maximum cruise speed of 50+ knots.
Hardt in his remarks said that the vessels, which are the first US-built boats that will be used by the Coast Guard, are equipped with state-of-the-art communications to ensure timely sharing of information and operational coordination.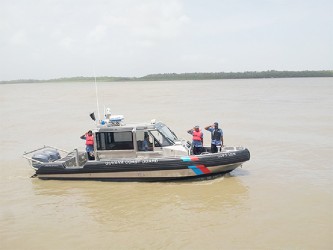 "The handover of the Metal Shark vessels marks the beginning of a new chapter in Guyana-United States relations as we deepen our work together to combat organized crime, ensure freedom of commerce and navigation on inland waterways and most importantly, ensure the safety and security of the people of Guyana," Hardt told the gathering.
Hardt added that the US and Guyanese military have already been conducting training in the operation and maintenance of the vessels. "Follow on training will be conducted by various US military teams to ensure that the Guyana Defence Force remains poised to respond to any crisis."
The Ambassador noted that similar vessels are in service in Dominica, St. Kitts and other Caribbean countries and have helped interdict drug smuggling and he hopes that the acquisition of these vessels will boost Guyana's ability to disrupt and dismantle illicit trafficking in its waters and reinforce regional efforts.
He said that transnational trafficking has emerged as a major threat to governance and security throughout the Caribbean, as the flow of drugs, arms and even people generates large profits for criminals.
President Ramotar said that "we are a poor country and we still have many needs that we have to fulfill but the need for security is as important as any other need."
He also appealed to those who will be handling the equipment to do so with care as they play a vital role in tackling crimes that take place on Guyana's waterways.
A GDF officer told Stabroek News that the boats will be stationed at the Coast Guard Headquarters for the moment. "When the time for deployment comes, the directive will come from the commanding officer who would receive prior instructions from the Chief of Staff," the officer said.
Also in attendance were Crime Chief Seelall Persaud, Fire Chief Marlon Gentle, CANU Head James Singh and Commander Robert Novotny of the US military liaison office.
Comments

Legal Advisor to the Police, retired Justice of Appeal, Claudette Singh yesterday testified that there was insufficient evidence in the allegation made by Andriff Gillard of an alleged plot to assassinate President David Granger.

Today at 2 pm the 30 councillors of the Georgetown City Council will once again cast a vote on the future of metered parking in the city and several of them have told Stabroek News that they want to be sure their vote accurately represents a mandate from residents.

Crime Chief Wendell Blanhum yesterday made a written request to be recalled before the Commission of Inquiry (CoI) investigating the allegation of a plot to kill the President of Guyana to defend himself against "appalling" statements made by Assistant Commissioner of Police David Ramnarine.

Two men were yesterday remanded to prison by a city magistrate after they were charged with the fatal stabbing of Rawle Rodrigues which occurred in January.

Amid accusations that he has improperly tried to direct a constitutional commission, President David Granger said he had asked for a delay in police promotions to address complaints that have been made against law enforcers.