In honour of its late executive member Deborah Backer, who will be buried on Friday, the PNCR has embarked on a number of initiatives including documentaries and the opening of books of condolence countrywide, in her honour.
Backer, former deputy speaker of the National Assembly died in hospital on Friday after a brief period of illness.
The launching of a book of condolence at Congress Place took place immediately after a press conference yesterday. Party member Amna Ally told reporters that while there would be a book of condolence at Congress Place there will be others at various locations in all administrative regions.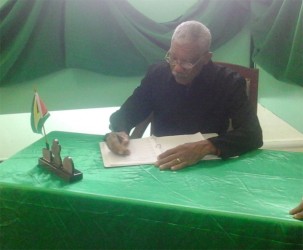 She said that among the actives planned by the party for Backer are: a night of reflection today at the West Demerara Secondary School starting at 7.30 pm; a wake at Backer's residence on Thursday night and a number of documentaries.
Asked about the funeral arrangements, she said that on Friday morning, Backer's body will be at the Parliament Buildings for viewing following which it will be transported across the road to the St Andrew's Kirk for tributes followed by a funeral service at 3 pm.
Opposition leader David Granger yesterday went through aspects of Backer's professional, political and public life.
Reading from a prepared statement, he said A Partnership for National Unity (APNU) and the PNCR are saddened by her death.
Backer in her professional life, he said, attended St Gabriel's Primary and the Bishops' High schools. She graduated with a Bachelor of Laws (Hons) degree from the University of the West Indies and earned the Legal Education Certificate from the Hugh Wooding Law School two years later in 1983. She has been a practicing attorney-at-law for over 30 years.
According to Granger, she attended courses in Conflict Analysis and Resolution conducted by the University of Guyana and the Clark Atlantic University,; Mediator Skills Training conducted by the Supreme Court of Guyana and the Carter Center and the Defense Planning and Resource Management and the Advanced Policy-making Seminar: Transformation, Defense and Security Challenges in the Caribbean by the National Defense University, Washington DC, all of which took place in 2002.
Now focusing on her political life, he explained that she served as a PNCR member of the Georgetown City Council from 1994 to 1997 and as a member of the National Assembly from 1998 to 2014; resigning from the later position last month. He said that she was elected Deputy Speaker in January 2012 and APNU's shadow minister and spokesperson on Foreign Affairs and was also Chairperson of the Foreign Relations Committee. She served on several Standing and Special Select Committees. She was a member of the PNCR Central Executive from 1998 and Vice-Chairperson from 2004 to 2006.
Backer he said was, at the time of her death, chairperson of the Party's Constitution Reform Committee following a decision of the 2012 Congress.
In her public life, he explained she served as President of the Guyana Society for the Blind from 1985 to 86, was a member of the International Association of Lions Clubs and a member of the Guyana Association of Women Lawyers, since 1988.
He said that Backer was also Secretary of the University of the West Indies Guild of Under-graduates (1980-1981) and President of the Bishops' High School Old Students' Association (1993-94).
Backer, according to Granger was recognised and honoured by the National Assembly for her parliamentary service earlier this month, to mark International Women's Day.
Later, in reflecting on his relationship with Backer, he said that he had known her all her life having being taught by one of her uncles and having worked with another while in the army.
While explaining that he had some family ties to her, he recalled how serious she was about her work.
General Secretary Oscar Clarke said that she was very articulate, noting that he remembers her work at the grassroots level. He said that Backer was a person who thought outside the box and was always coming up with new ideas.
Her children, Nigel and Natasha, were at the press conference yesterday.
Comments

(Trinidad Guardian) Education Minister Anthony Garcia says the University of Trinidad and Tobago (UTT) is of the view that the organisation is "overstaffed and to run the university efficiently it will mean they have to trim fat." But former Tertiary Education Minister Fazal Karim is warning that the decision to retrench 287 staff members, will "compromise the quality of teaching and learning and administration at the university," and may impact its accreditation with the Accreditation Council of Trinidad and Tobago (ACTT).

In preparation for Guyana's emerging oil and gas sector and the bustling business usually synonymous with the industry, the Pegasus Hotel is expected to undergo a huge expansion which includes office and residential rental spaces.

Police Commissioner Seelall Persaud is to resume his duties today after spending approximately six months on leave, Public Security Minister Khemraj Ramjattan yesterday confirmed to Stabroek News.
The Alliance For Change (AFC) yesterday launched a scathing attack on the union GAWU, accusing it of decades of sabotage of the sugar industry and not genuinely representing the interests of its workers.

The importance of foot health, especially for persons with diabetes, was emphasized by Podologist Yvonne Braithwaite yesterday, when she launched the local leg of Rovon Health Care Inc, which includes a foot spa.