Just over a week short of his second birthday, a Dartmouth, Essequibo Coast boy was struck down and killed in front of his home when he pulled away from an older child who was holding him and darted in front of a minibus.
According to reports, 23-month-old Javell Peters of Lot 85 Clarke Street, Dartmouth, was hit by the minibus in front of his home around 5 pm yesterday.
His mother, Murlene Hopkinson, related that she and her son had just returned from a nearby shop where they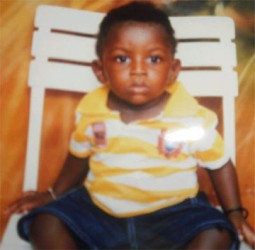 had gone to buy cheese sticks. "After he eat the cheese sticks, he seh 'mommy I coming back'. It had some other children on the street playing, so he de want to go with them," she said sorrowfully.
Hopkinson, who said she was not feeling well at the time, was sitting on a bench outside her home with her head bent in her lap when she heard screaming. "I run and pick he up and meh baby give one last blow and that was it. I see that the left side of his face scrape up. We went going and carry he to Charity Hospital but then we see the ambulance and we went to Suddie," she said.
The child was pronounced dead on arrival at the Suddie Public Hospi-tal. Hopkinson told Stabroek News that she later heard that an 11-year-old girl was on the street with the children and held them when she saw the bus headed in their direction. But Javell had somehow gotten loose and ran in the path of the bus.
When Stabroek News visited the scene where the accident occurred, zinc sheets supported by concrete blocks were covering the blood-stained area.
This publication was informed that the minibus belongs to a man from the same village and he was driving it at the time of the incident.
The man is currently in police custody assisting with investigations.
Javell Peters was the only child of his parents Murlene Hopkinson and Alfardo Peters. He would have celebrated his second birthday on April 4.
Comments

Wijeyadasa Rajapakshe   COLOMBO, (Reuters) – Sri Lankan President Maithripala Sirisena today sacked the justice minister over his criticism of a $1.1 billion deal, signed last month, to lease a port to a Chinese company, the cabinet spokesman said.

NEW YORK,  (Reuters) – Two Harvard University researchers said in a study published today they had collected scientific data proving Exxon Mobil Corp made "explicit factual misrepresentations" in newspaper ads it purchased to convey its views on the oil industry and climate science.

In the wake of rising bad loans and a massive alleged fraud against it this year, the Guyana Bank for Trade and Industry (GBTI) has posted an unaudited net after tax profit of $603m for the first six months of this year compared to $961m in the same period for 2016.

Vamanadev Hiralall, of the privately-run Saraswati Vidya Niketan (SVN), is the country's top performer at this year's Caribbean Advanced Proficiency Examinations (CAPE) after achieving an accumulated 13 grade one and 3 grade two passes.

Twenty-six students in the top one percent of the 12,684 who sat this year's Caribbean Secondary Education Certification (CSEC) examinations earned 12 or more Grade I passes, with half of them, including the top performer, coming from Queen's College (QC).