The man accused of the murder of popular Robb Street drugstore owner Harold Rachpaul was further remanded to prison, after the court was told that the prosecutor was not in possession of the case file.
Police Prosecutor Bharat Mangru asked Chief Magistrate Priya Sewnarine-Beharry for a further adjournment to secure the file and the case will be called again on April 7.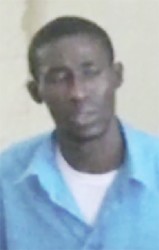 Orin Kevin Roberts, a minibus conductor of Lot 3 'C' Field Sophia, stands accused of murdering Rachpaul, 84, of 75 Robb Street, Lacytown, sometime between August 18 and 19, 2011.
Prosecutor Michael Grant at Roberts' arraignment, had stated, that the defendant was apprehended as a result of the use of new technology by the police force. Grant was referring to the recently acquired Automated Fingerprint Identification System, which was reportedly used to match a fingerprint found at the scene of the crime with that of Roberts from the police's force database.
Rachpaul was found dead at his residence, located behind the Rachpaul's Drugstore on Robb Street, by his son Leonard and grandson, Vincent, when they had arrived to open the drugstore at approximately 8 am.
The deceased's son had told Stabroek News that he discovered his father's body wrapped in two sheets. Rachpaul's hands were tied in front of him and he was also gagged. A post-mortem examination later determined that Rachpaul had died of asphyxiation.
Comments

MUMBAI, (Reuters) – India captain Virat Kohli had something to cheer on Thursday when he was named ICC World Cricketer of the Year, a day after suffering his first test series defeat as skipper in South Africa.

Fifteen city councillors voted yesterday in favour of accepting the recommendations of the parking meter renegotiation committee, which would see a reduction in parking fees to $150 per hour, exemptions for religious organisations and schools, and Smart City Solutions (SCS) giving up on their claim to garage parking.

A GDF rank was yesterday remanded to prison over three armed robbery charges and alleged possession of an unlicensed gun and ammunition.
Minister of Natural Resources and Leader of the Alliance for Change (AFC), Raphael Trotman on Monday praised ExxonMobil for investing in the oil sector here and said it is now resulting in other important companies wanting to do business here.

The city lance corporal, who on Sunday allegedly shot and killed Marlon Fredericks, a mentally-challenged vendor, after he reportedly attempted to flee custody is to be charged with manslaughter.