Rachpaul murder accused further remanded
The man accused of the murder of popular Robb Street drugstore owner Harold Rachpaul was further remanded to prison, after the court was told that the prosecutor was not in possession of the case file.
Police Prosecutor Bharat Mangru asked Chief Magistrate Priya Sewnarine-Beharry for a further adjournment to secure the file and the case will be called again on April 7.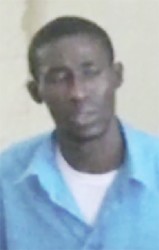 Orin Kevin Roberts, a minibus conductor of Lot 3 'C' Field Sophia, stands accused of murdering Rachpaul, 84, of 75 Robb Street, Lacytown, sometime between August 18 and 19, 2011.
Prosecutor Michael Grant at Roberts' arraignment, had stated, that the defendant was apprehended as a result of the use of new technology by the police force. Grant was referring to the recently acquired Automated Fingerprint Identification System, which was reportedly used to match a fingerprint found at the scene of the crime with that of Roberts from the police's force database.
Rachpaul was found dead at his residence, located behind the Rachpaul's Drugstore on Robb Street, by his son Leonard and grandson, Vincent, when they had arrived to open the drugstore at approximately 8 am.
The deceased's son had told Stabroek News that he discovered his father's body wrapped in two sheets. Rachpaul's hands were tied in front of him and he was also gagged. A post-mortem examination later determined that Rachpaul had died of asphyxiation.