Fire believed to have been as a result of an overfilled furnace has left the owner of Guytrac on Mandela Avenue, counting millions of dollars in losses.
Speaking with Stabroek News, Debbie De Abreu, Company Supervisor said the fire started around 10:00 on Monday night after a furnace lit by a neighbouring business got out of control.  Stabroek News was unable to speak to the management of the neighbouring business. Guytrac believes that the damage sustained in the fire could have been far less if the fire service hadn't taken approximately 25 minutes to arrive on the scene. It was further stated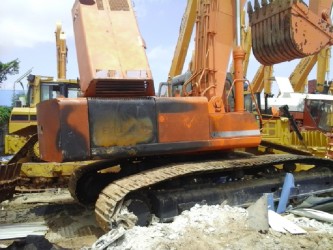 that after the fire engine arrived, the water supply ran out after only five minutes.
Losses to the fire included two excavators, a combine and a D9 bulldozer.
Yesterday morning, De Abreu said, Minister of Home Affairs, Clement Rohee visited the site along with Town Clerk, Carol Sooba and other officials.
"I heard the shop lady across the road hollering for me and the other boy who works with me, saying there was a big fire in the back yard. By the time I went to move the machines, the fire was already too big," Kevin Totaram, a mechanic who lives in the Guytrac compound said.
Another employee said that the shop behind Guytrac would normally burn the shaved remains of the wood after they would have finished making pallets. He added that the furnace had been burning since 3:00 pm on Monday and no one at the worksite took heed of it because it was a norm for it to be burning for long periods.
He added that when he and his colleague ventured outside to extinguish the blaze, there were workers inside the yard where the furnace is situated and no one came to render any assistance.
Comments

SYDNEY,  (Reuters) – England's Jos Buttler struck a belligerent unbeaten 100 to set up a 16-run win over Australia in the third one-day international on Sunday, as the touring side took an unassailable 3-0 lead in the five-match series.

The Public Procurement Commission (PPC) hopes that by the end of this year debarment legislation would be in place as it will soon begin meeting with stakeholders on a draft.

A bill to provide a legal framework for the protection of witnesses was passed without amendment by the National Assembly on Friday evening despite arguments by the parliamentary opposition that it failed to take into account modern challenges.

The ownership of over $7 million in local and foreign currencies and several vehicles that were all seized during a raid by the Customs Anti-Narcotics Unit (CANU) at Soesdyke, East Bank Demerara on Friday has raised questions and a separate probe is expected to be launched.

Weeks after its major oil find at the offshore Ranger-1 well in the Stabroek Block, ExxonMobil's local subsidiary is preparing to begin drilling at the Pacora-1 well site in the same area.