The trial of Tenza Lane who is accused of assaulting Samuel Hinds Jnr. began yesterday but not before she took to the witness stand to give evidence against Hinds who had been cross-charged for allegedly assaulting her.
Yesterday, the case against Hinds continued after which the case against Lane started.
It is alleged that on February 27, Hinds Jnr, 33, of Lot 83 Duke Street, Kingston beat Lane with a cane and threatened her with a gun. The court was told when the matter first came before the court that when the incident occurred Hinds called Lane a thief, threw her to the ground,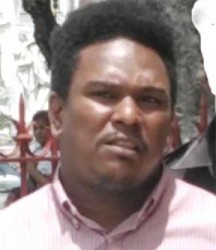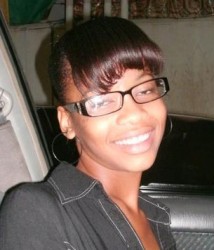 stamped her in the face and dragged her by her hair around the house. The alleged assault took place at Lot 83 Duke Street, Kingston where Hinds lives. According to Police Prosecutor Renetta Bentham, during the assault Hinds also brandished his licensed firearm and beat the woman with a cane.
During Hinds' trial yesterday, Lane continued her evidence and police constable Samantha Charles-Garraway later took to the stand.
After about 30 minutes, the matter was adjourned to April 2 and Lane's trial commenced.
The 18 year old woman of 57 Roraima Housing scheme, West Bank Demerara is accused of threatening behaviour against  Hinds and threatening language to her sister, Sonia Herbert. She was also accused of assaulting Hinds, causing him actual bodily harm.
In Lane's trial yesterday Hinds was the first witness to be called. After giving his evidence in chief, he was cross examined.
During his cross examination, he said something that caused the magistrate to adjourn the matter and enter her chambers for several minutes. When she returned to the bench, Hinds continued his testimony before the case was adjourned to April 2.
Picture of Samuel Hinds Jnr saved in pictures file as Samuel Hinds Jnr1.jpg.
Picture of Tenza Lane saved in pictures file as Tenza Lane.jpg
Comments

UN experts condemn racist violence in U.S., urge investigations GENEVA, (Reuters) – United Nations human rights experts called on the United States today to combat rising racist violence and xenophobia and to prosecute perpetrators of hate crimes.

The twin-engine Beech aircraft seized by authorities on an improvised airstrip on Sunday in the North Rupununi, Region Nine area, was yesterday confirmed as bearing a registration number belonging to an investment company in Brazil.

ExxonMobil yesterday signed a deal with Guyana Shore Base Inc (GYSBI) for an onshore support facility at Houston on the East Bank of Demerara.
While students who sat Caribbean Examination Council (CXC) exams in May and June of this year will be able to access their results online on Friday, the Ministry of Education has already announced that Guyana has recorded a 7% increase in passes at the Caribbean Advanced Proficiency Examinations (CAPE).

A post-mortem examination is expected to be done today to determine the cause of death of a nine-month-old baby, who died on Monday after she was left in a car.