The twenty-seven members of the newly formed Special Weapons and Tactics Team (SWAT) were yesterday charged to be a "special unit" by Police Commissioner Leroy Brumell.
"Nobody must speak about this unit as a unit committing heinous things. This unit must be above par and it must be professional," he told a gathering at the Police Training Centre, Eve Leary for the Graduation Ceremony for the first phase of training for the members. They were trained by Dallas Stedd of The Emergence Group (TEG) from the United States.
Last year, a contract was signed between the Ministry of Home Affairs and TEG to the tune of US$796,987 (S163m) to establish the unit in the Guyana Police Force to address special types of violent crimes.
Brumell warned the team to be prepared for hoaxes. "You have to be prepared for hoax. Some people know that you finish a phase of the training and will want to put something out to see how you react, but you will not be going out like that. There has to be something of high risk, something serious."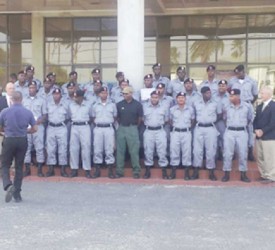 He also said that the members of the unit had displayed a lot of self-discipline and appeared well coordinated. He also told the team that they must remain determined as they take on their new tasks.
Home Affairs Minister Clement Rohee in delivering his address said that it was a historic event and that the team has been launched to ensure "that the population sleeps and rests in an atmosphere of peace and good order. We all live in Guyana and we know what the challenges are." The Home Affairs Minister also bashed media reportage on law enforcement noting that most of it is negative and unjustified. He said that what is needed are recommendations that would move the force forward.
Rohee went on to say that the SWAT team was "a legacy that the Commis-sioner is leaving behind. The SWAT team is Brumell's legacy to the organization. He is leaving the organization untarnished." Brumell is retiring shortly.
"If the force never had a SWAT team before it shows that there was a vacuum. Now that the force has a SWAT team, that vacuum has been filled and that is a plus…If this team had not been created, questions would have been asked about the need for such a team", Rohee asserted.
On Monday, Finance Minister Dr Ashni Singh had said that $19.5B is to be allocated to public safety this year and the Home Affairs Minister yesterday said that this was a clear indication of Govern-ment's commitment to public safety.
Stedd said that there were thirty-seven members initially but ten dropped out. "That's natural. Anytime you train SWAT you are going to have some persons dropping out."
He added that the second phase of the training that has already commenced will entail advanced training and he applauded the members for their hard work.
Director of the TEG team Dan Waddington argued that there is a "misunderstanding" of what the SWAT team really entails. "It is unfortunate that there is a real misunderstanding of what the purpose of this team is, it really is an elite force to protect the people of Guyana."
The 27 trainees are: Assistant Superintendents Lonsdale Withrite and  Motie Dookie; Cadet Officers James Tappin, Amit Kumar Das and Rovin Das; Sergeants Marx Wilson, Joseph Grant, Relando Sandy, Corporal Kwesi Lawrence , Emswhi Gordon and Ryan Leacock; Constables Dennis Ragnauth , Alec Ally, Ronell Chapman, Aiden Dennan, Anthio Wallace, Andel Smith, Trevor Edmonds, Erwin Scott, Guy Williams, Kevin Thompson, Delon Sheckle, Asapha Easton, Yuri Bourne, Navindra Jodhan, O' Neil Walcott and Special Constable Trevor Grenville.
The training is expected to conclude in August.
Comments

The Guyana Power and Light (GPL) says that just after midday today, three armed bandits stormed its Parika Customer Service Centre; robbing the location of all revenues received up until that time, holding the  staff and customers at gun point and disarming a security guard of a gun.

The Management of Cheddi Jagan International Airport Corporation (CJIAC) is currently undertaking a massive expansion project  and a Temporary Arrivals Terminal Building was recently constructed.

Tourism Minister Shamfa Cudjoe announced the decision to close the company. (Trinidad Express) The Tourism Development Company (TDC) has ceased operations.

Cevons clearing city garbage WPA STATEMENT ON THE UNRESOLVED ISSUE OF GARBAGE COLLECTION IN THE GEORGETOWN MUNICIPALITY The WPA is deeply concerned that the Georgetown City Council's inability to honour its financial obligations to Cevons Waste Management and Puran Brothers has the potential of endangering the health and lives of citizens.
British High Commissioner to Guyana Greg  Quinn  yesterday said that it was hoped that more would have been done to push the constitutional reform process forward.