A state police witness under cross-examination in the trial of Tiffany Clarke, who was indicted in the 2011 murder of her lover Sonobia James at the Red Dragon Night Club, yesterday said that she didn't not know where the alleged murder weapon was.
The trial which began in the High Court last Wednesday before Justice Navindra Singh and a jury continued yesterday with police officer Mellisa Gilkes being called as a witness by state prosecutor Dhanika Singh.
Defence lawyer George Thomas, during his cross-examination specifically asked Gilkes if she  knew where the murder weapon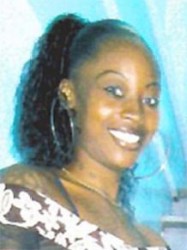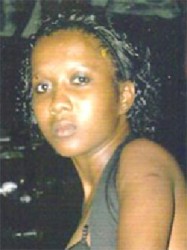 was and she said she didn't. She said that she had lodged it at a station and it was the last time she saw it.
She recounted that on the night of the murder, she was at the Georgetown Public Hospital Corporation police outpost around 3:46 am when she arrested Clarke and handed her over to police at the Alberttown Police Station.
When questioned by Thomas if she recorded the incident in the diary at the hospital she said she could not recall.
He pressed her again, questioning whether she had any conversation with his client about James "cutting her up".  He also made a request for the diary to be presented to the court today.
Crime scene investigator, Delisa Brown, who visited the scene, told the court that she had noticed what appeared to be blood in the female washroom area of the nightclub. She said that there were spots of the 'reddish substance' on the floor and the walls.
However, when questioned by Thomas she admitted to not taking any samples of the substance and no prints of the crime scene. She said the scene seemed to be contaminated.
When police crime scene photographer Dellon Lewis was questioned by Thomas, he said he took no pictures of the washroom, which Brown had mentioned. He was shown exhibits of the crime scene which were admitted as evidence.
Clarke has pleaded not guilty to the murder of James, 25, of Rasville Housing Scheme on February 26, 2011.
According to reports, an arguments broke out inside the club when another woman showed interest in Clarke.
The argument evolved into a struggle between James and Clarke, and reportedly ended with Clarke pulling a knife from a bag she was carrying and stabbing James.
James sustained a wound to her neck and died while receiving treatment at the Georgetown Public Hospital. Clarke was subsequently taken into custody.
She was committed in January, 2012 to stand trial in the High Court by Acting Chief Magistrate Priya Sewnarine-Beharry.
The trial continues today.
Comments

Dawn Hastings-Williams President David Granger, today, announced that Minister within the Ministry of Communities,  Dawn Hastings-Williams will assume the portfolio of Minister of Public Affairs in the Ministry of the Presidency with effect from September 1, 2017.

President David Granger, earlier today, attended the wedding reception of Minister within the Ministry of Communities with responsibility for Housing, Valerie Patterson- Yearwood and .

Grace Mugabe   JOHANNESBURG,  (Reuters) – South African police confirmed on Wednesday that Zimbabwean first lady Grace Mugabe remained in the country and had applied for diplomatic immunity after being accused of assaulting a 20-year-old model in an upmarket Johannesburg hotel.

Daniel Craig   LONDON, (Reuters) – British actor Daniel Craig has confirmed he will reprise the role of James Bond one last time, ending months of speculation.

UN experts condemn racist violence in U.S., urge investigations GENEVA, (Reuters) – United Nations human rights experts called on the United States today to combat rising racist violence and xenophobia and to prosecute perpetrators of hate crimes.