Two children are dead after their troubled mother allegedly poisoned them at their home in Perth Mahaicony, yesterday.
Aweena Rutherford  picked her children up from their aunt in Anns Grove, East Coast at approximately 5:00 pm. Relatives received a phone call an hour later stating that one-year old Jabari Cadogan and four- year-old Odacia were being treated at the Mahaicony Hospital.
The one-year-old baby succumbed at the Mahaicony Hospital. Rutherford, who it is believed also ingested poison,  and her daughter were subsequently rushed to the Georgetown
Public Hospital Corporation.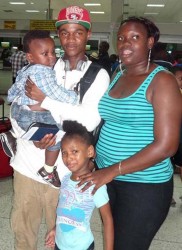 The four-year-old was carried out of the ambulance limp and almost lifeless.
She was treated by the medical staff at GPHC but they were unable to save her life. At approximately 10:30pm, the four-year- old girl passed away.
The children's aunt recalled that Rutherford seemed normal "when she was leaving.  She tell me she had a surprise for me…I never imagined this was the surprise she calling about". The grieving woman broke down multiple times at GPHC as she recalled that her niece and nephew were at her home smiling and laughing mere hours before.
The children's aunt said that Rutherford was saying she "wasn't able no more," as she lay on the stretcher. The aunt stated that she could never imagine that Rutherford would poison her children.
She stated that her brother, the children's father, will be coming into the country tomorrow.
She said that while Rutherford didn't work, her children's father would sustain her from abroad. She said "Aweena never wanted, my brother took care of her, his children."
Yet another relative of Rutherford stated that the mother of the children had claimed she had drunk poison around New Year's. Rutherford's aunt recalled that the children's mother sometimes would call family members at all hours of the night, but that she has never shown any signs that she could commit such an act.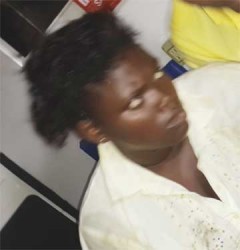 Rutherford's aunt stated that "Aweena used to beat the lil' girl, but we never see this…She had help. She could have called all of we anytime."
Rutherford said last night she had drunk poison herself. She was alert when she was carried out of the ambulance on a stretcher last night. At press time, she was being treated.
Comments

Allen Chastanet   CASTRIES, St. Lucia, (Reuters) – The prime minister of the small Caribbean country of St.
Dear Editor, Kindly publish my response, as follows, with regard to an anonymous letter published by the Guyana Chronicle on Wednesday, August 16, 2017, under the caption 'Will the Auditor General investigate the deputy chief elections officer?' Editor, this letter is the second deliberate attempt aimed at besmirching my integrity, obviously with clandestine objectives. 

Dawn Hastings-Williams President David Granger, today, announced that Minister within the Ministry of Communities,  Dawn Hastings-Williams will assume the portfolio of Minister of Public Affairs in the Ministry of the Presidency with effect from September 1, 2017.

President David Granger, earlier today, attended the wedding reception of Minister within the Ministry of Communities with responsibility for Housing, Valerie Patterson- Yearwood and .

Grace Mugabe   JOHANNESBURG,  (Reuters) – South African police confirmed on Wednesday that Zimbabwean first lady Grace Mugabe remained in the country and had applied for diplomatic immunity after being accused of assaulting a 20-year-old model in an upmarket Johannesburg hotel.