Relatives of 75-year-old Joyce Lewis who was found dead in her North Ruimveldt home on Wednesday say a post-mortem report stated that she was strangled.
Lewis is believed to have been strangled during an early morning robbery. Her body was discovered by police and her sister, Veronica Deen around 8:30 am that day. The intruders, apparently, had pried their way into the two-storey home sometime between 12:00am – 6:00am. They had gained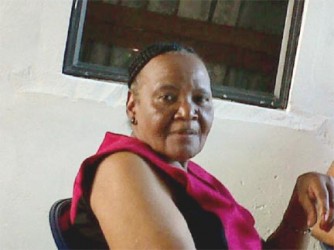 entry through a window near the veranda of the house after an attempt to clip a window grill barring entry into the lower flat of her home failed.
Police are yet to implicate anyone in her killing.
Recently, residents of the area stated that the number of robberies in North Ruimveldt has risen.
Sources close to the investigation said Lewis' body was found sprawled on a bed with her underwear pulled to her ankles, while highlighting that there were dark marks around her neck.
Shane Willis, Lewis' cousin said he received a call from another cousin, informing him to check on her house because she was not answering her phone. "When I reached I see her sister (Deen) and she went hollering," he said, recalling Deen telling him to jump the fence because she said "them kill her".
Willis stated that when he jumped the fence he saw a knife wrapped up in a cloth and a bunch of keys on the ground. "And she keep hollering that them kill her, them kill her," he said, adding that he jumped onto his bicycle and went home and collected his mother.
Her killing left relatives in shock and despair. Her children and siblings are expected to fly into the country early next week.
Comments

In preparation for Guyana's emerging oil and gas sector and the bustling business usually synonymous with the industry, the Pegasus Hotel is expected to undergo a huge expansion which includes office and residential rental spaces.

Police Commissioner Seelall Persaud is to resume his duties today after spending approximately six months on leave, Public Security Minister Khemraj Ramjattan yesterday confirmed to Stabroek News.
The Alliance For Change (AFC) yesterday launched a scathing attack on the union GAWU, accusing it of decades of sabotage of the sugar industry and not genuinely representing the interests of its workers.

The importance of foot health, especially for persons with diabetes, was emphasized by Podologist Yvonne Braithwaite yesterday, when she launched the local leg of Rovon Health Care Inc, which includes a foot spa.

All local and international bidders for government contracts are being asked by the National Procurement and Tender Administration (NPTA) Board to complete a NPTA Supplier Registration form to obtain a registration number which they can use on bidding documents for quick database referencing.