A broadcaster is now a remanded prisoner after being charged with assaulting a 13-year-old girl and threatening her mother.
Ossie Rodgers, who is a broadcaster attached to the NTN Channel 69 and NTN radio 89.1 FM, appeared at the Sparendaam Magis-trate's Court yesterday to answer the charges, which allegedly stemmed from the girl's communication with a 15-year-old boy who is known to him.
Rodgers, 39, of Lot 52 Atlantic Ville, denied that he assaulted the teenager, causing her actual bodily harm on March 26, at Industry, East Coast Demerara. He further denied that on the same day he threatened her mother with a piece of wood. It is the prosecution's case that Rodgers went to the girl's home and confronted her about their mutual 15-year-old friend. According to Prosecutor Anthony, the defendant took away the girl's phone and ran through her call log and text messages before he dealt her two slaps to the head and face. Additionally, the prosecutor stated that the girl's mother then enquired about his behaviour, only to be confronted and threatened with a piece of wood by Rodgers.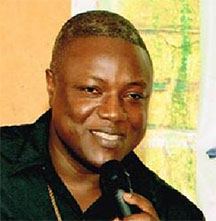 Rodgers' attorney, Dexter Todd, made an application for bail but Magistrate Alex Moore remanded the accused after the teenager expressed fear for her life and the prosecutor objected.
Prosecutor Anthony objected on the grounds that the victim is a minor who should be protected. He noted that the dispute had evolved from a verbal spat to a physical confrontation and told the court that complaints were made by the victims that Rodgers had been showing up at their home. He said too that there was fear of Rodgers showing up at the girl's school and that Rodgers had also resisted arrest.
Rodgers had appeared before Magistrate Moore last year and was found guilty and sentenced to community service in another matter.
The case will called again on April 8.
Comments

The Corriverton Town Council is expected to meet tomorrow  to discuss the way forward after   police stopped their flag-raising programme allegedly because the police had not granted permission.

(Trinidad Guardian) The Russian intelligence-gathering vessel Viktor Leonov returned to Trinidad for a second time this year and was docked near the Hyatt yesterday.

An international firm will advise the Guyana Government on how to market the country's remaining unassigned oil blocks, according to Natural Resources Minister Raphael Trotman.

Minister of State Joseph Harmon has berated Auditor General Deodat Sharma for publicly commenting on the ongoing investigation of the D'Urban Park Development Project and for reaching out to a private company for information instead of the government.

Skeletal remains, suspected to be those of an elderly Plaisance resident, were yesterday discovered in the ruins of the Victoria Road, Plaisance, East Coast Demerara apartment building that was razed by a mystery fire on Friday.