More money has been budgeted this year for the digitalizing of archival records and a paper conservation lab, Youth, Culture and Sports Minister, Dr Frank Anthony says.
And despite the many "off field difficulties" that cricket has had, Anthony says that he hopes that the cricket legislation will be passed by consensus to assist the game to grow and develop in Guyana.
The cricket bill has been at the centre of several years of controversy over the administration of the game here and is now the subject of a court case.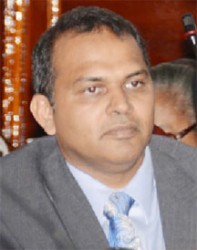 Anthony in his budget contribution on Monday also said that negotiations are currently in place to make Guyana one of the venues in the 2014 edition of the Caribbean Premier League T20.
Regarding the local publishing house, Caribbean Press, Anthony said that 68 books have been published while there are another 45 listed for future publication. He added that publication of the Presidential Parliamentary Speeches Series is underway.
The Ministry is also looking to launch an anthology, he said, which will feature 21 young poets, including APNU MP James Bond.
Over the last two years Anthony has been challenged on numerous occasions over the Caribbean Press, decisions about publications and accountability.
According to Anthony, in 2013 and 2014 extensive consultations were held to formulate the National Youth Policy and that a policy steering committee was formed to guide the process.
"After these extensive consultations a first, a second and now a final draft will soon be completed," he said.
With respect to the Walter Roth Museum, he said that several initiatives were taken in the area of archeology including that of a draft archeological draft plan for the Berbice River area, where critical archeological sites were identified. The process of researching this area and carbon- dating the artifacts will continue with the University of Florida during 2014.
Anthony announced that monies have been budgeted for a digital database, the procurement of equipment to create audio archives and for a paper conservation lab at the Walter Rodney National Archives.
"Over the last year our focus has been on digitalizing our archival holdings. We have two projects that are ongoing concurrently; one to create a searchable digital database with all the indentureship immigrant records and the other is to take a digital image of the records. These would then be merged and eventually taken online. We have made substantive progress," he said.
According to Anthony, the National Drama Festival has become a cultural staple to drama development in Guyana. For 2014, he said, 43 plays entered the competition.
Further, he announced that $55 million has been allocated to fix the air conditioning system at the National Cultural Centre "that is almost three decades old and has finally collapsed" and that additional monies will be spent to improve the sound and lighting system.
He argued that for every dollar invested in sport, "it returns an average savings of 3 to 41 dollars."
The National Synthetic Track at Leonora is expected to be partially operational by the end of the year, according to Anthony.
He said that by year end the synthetic track, the football field, the 2 Northern Stands, the parking, access roads and the Club House will be fully complete, but that works will continue to build two southern stands. "These capital expenditures we anticipate will be in future budgets." He added that the latter part of the year will also see the Ministry hiring staff to run the facility.
As part of its dedication to youths, Anthony said that there are more youth specific investments under several Ministries, including his Ministry.
"These include the National Training Programme for Youth Employment, Apprenticeship Programme, Board of Industrial (Training) and the Youth Entrepreneurship Programme in the Hinterland.
These programmes are intended to reach out to youths as they transition into the world of work," Anthony said.
The Minister said that Government must be commended for its multi sectorial approach. "This year we note the substantive increases in education, health and water, all of these investments will benefit our young people in a direct or indirect way."
According to Anthony, the budget has something for everyone and that Finance Minister Dr Ashni Singh and his team have demonstrated that this is not just a theoretical exercise. "…it is a deliberate plan to increase prosperity for all Guyanese."
Anthony added that despite the world economic crisis, post economic Guyana has recorded the longest real economic growth, from 2006 to 2013.
He said that several programmes including the Youth Volunteer Pro-gramme are growing, with the formation of new units in different regions.
Anthony stated that in the latter part of this year, the Guyana Karate College is expected to commence construction of its Dojo on the one acre of land that was allotted to them by Government. This, he said, would create a permanent home for Karate in Guyana.
Further, Anthony announced that $300M has been allocated for the development of community grounds across Guyana. "Over the last three years government would have spent 500 million on community grounds, this have resulted in a welcome transformation of these community assets.
With close to 500 communities benefitting from this grant funding. Within the next few months, the lights at Albion will be completed. With its completion we can expect to see more night games at Albion," Anthony said.
Regarding development at the Guyana National Stadium, the Minister said that his Ministry is looking to procure two mobile stands that can be easily set up on the tarmacs when there are events there. He added that the Ministry will also be looking to fence the outer parking lot which will prevent the indiscriminate dumping of construction material that is occurring on the Ministry's property.
The Minister added that given the fact that we live in an "obesity promoting environment", the Ministry has adopted a lifestyle approach to sports calling on persons to be physically active for at least 30 minutes per day.
Anthony urged all of the parties to "reach across party lines", since people are "getting tired of the cutting and    chopping" (of the budget). (Tifaine Rutherford)
Comments

TAROUBA, Trinidad,  CMC – Left-arm spinner Veerasammy Permaul snatched three of the four remaining wickets to end with five in the innings and nine in the match, as Guyana Jaguars routed Trinidad and Tobago Red Force by an innings and 217 runs in their fourth round match here today.

Since producing its first gold bar in August 2015, Canadian miner, Guyana Goldfields Inc (GGI) says it has paid US$26.5m in royalties to the state and purchased US$84.1m in goods and services from local businesses.

(Trinidad Guardian) When everyone felt that the case was closed on the kidnap and murder of United States citizen Balram "Balo" Maharaj, comes news that new motions have been filed in the Federal Court in Washington DC, which could see a new trial for the seven convicted Trinidadians.

HARARE,  (Reuters) – President Robert Mugabe was dismissed as leader of Zimbabwe's ruling ZANU-PF party today in a move to force a peaceful end to his 37 years in power following a de facto military coup.

Former Attorney General Anil Nandlall says that the Attorney General's Chambers' retention of six attorneys to prosecute a number of high profile cases is unconstitutional and he is warning that the right to a fair trial will be compromised by a politically-tainted process.