The second Preliminary Inquiry (PI) to decide whether Carolan Lynch is to stand trial for the murder of her husband, Farouk Razac, commenced yesterday when four witnesses offered evidence.
Lynch's brother Robert Lynch Jnr, her former personal trainer Karan Dutt, her beautician Sharon Sanmoogan and a security technician Joseph Chung testified yesterday at the Georgetown Magistrates' Courts, where the PI is being conducted by Chief Magistrate Priya Sewnarine-Beharry.
During the PI, more than ten witnesses are expected to testify, including the daughter of Lynch and Razac, who was expected to take the stand yesterday.
When Prosecutor Bharat Mangru called for her yesterday, Lynch's attorney Peter Hugh informed the court that she had an examination and implored the Chief Magistrate not to issue an arrest warrant for the minor.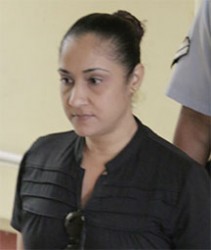 Lynch sat in the prisoner's dock and was periodically communicating with her attorney while witnesses offered their testimony. Hugh also cross-examined some of them.
Lynch was first charged in May 2007 after Razac was found dead on the floor of their Eping Avenue, Bel Air home. Following a PI, then Magistrate Gordon Gilhuys in late December 2007 had ruled that no prima facie case was made out against her and she was subsequently discharged.
Shortly after the case had ended, police arrested her with a view to re-charging. She was, however, released a few days later after her lawyers moved to the High Court.
In October 2010, police filed a fresh murder charge against Lynch.
The following month, the then Acting Chief Magistrate issued a warrant for her arrest after being told by the police that Lynch had been formally served notice of the charge but had not appeared.
When the matter was called for the third time on November 10, 2010 at the Georgetown Magistrates' Courts, she was still absent and so the charge could not be read. In the months after, she still did not appear in court and adjournment after adjournment was given.
There was no word on her whereabouts until September last year  when reports surfaced that she had been working for a local tour operator unknown to police. Attempts had been made by the police to apprehend her but to no avail. Shortly after, police issued a new wanted bulletin for her. She eventually turned herself in.
Lynch and Razac had previously been charged with unlawful possession of four 9 mm magazines, one Beretta automatic pistol and 120 rounds of 9 mm ammunition, which were found at the same home on November 10, 2006. They were granted $1 million bail each and after her husband's death Lynch faced those charges alone. They were later dismissed.
The PI continues today, when at least four other witnesses are scheduled to take the witness stand.
Comments

Nicolas Maduro CARACAS/LIMA, (Reuters) – A group of 12 regional nations plus the United States rejected Venezuela's new government-allied legislative superbody, saying they would continue to regard the opposition-controlled congress as the country's only legitimate law maker.

Eighteen prisoners at the Lusignan penitentiary were being treated for injuries last night following a reported attempt to kill a fellow inmate during which warders fired shots.

A 12-year-old girl is now dead, while her brother narrowly escaped a similar fate yesterday after their aunt's La Bonne Intention (LBI), East Coast Demerara house, which they were under, collapsed on them.

Guyana has officially applied for membership in the European Union's Extractive Industries Transparency Initiative (EITI) which will help in tracking revenues from oil and other natural resources.

State Minister Joseph Harmon yesterday reiterated that President David Granger's directive to the Police Service Commission to halt its consideration of promotions was intended to prevent damage to the image of the Guyana Police Force but he could not say under what authority the head of state acted.