A post-mortem, conducted on the remains of 21066 Private Dellon Nero, revealed that, the cause of death was consistent with drowning, a release from the Guyana Defence Force said on Monday.
The release said that Chief of Staff, Brigadier Mark Phillips  met on Monday with the late Private's father, mother and other relatives to convey to them the findings of the GDF's investigative team that was sent to the New River area on  March 23. This was in an effort to bring closure with regard to the loss of their loved one.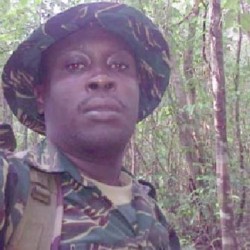 The release said that at the time of his demise, Private Nero, was deployed to the Guyana Defence Force border Base at Camp Jaguar, at New River. His remains were laid to rest on March 28 last.
Comments
CJIAC wishes to advise departing passengers effective Sunday, February 18, 2018 at approximately 14:00 h that the Immigration and Security operations will be relocated to the former Greeters Hall to facilitate the ongoing airport expansion project.

In keeping with its commitment to release petroleum and other agreements, the government today released the one with Canadian miner, CGX.

(Trinidad Guardian) Trinidad and Tobago has an ISIS cell. The official confirmation came yesterday from Prime Minister Dr Keith Rowley, who was grilled by Opposition MPs on the recent threatened plot to disrupt Carnival 2018 and the causes.

City Hall is currently executing works at the Le Repentir Cemetery under a contract valued at over $100 million without any evidence of public tendering.

Whether Guyana becomes "immensely rich or just another Trump-hole" from oil revenues depends largely on its ability to attract specialty experience and competencies in industry and sectors here, says business website Bloomberg.