Last Friday, the United States Agency for International Development (USAID) held a graduation ceremony at the Georgetown Club to honour 33 youth who completed work and life skills training and 24 youth who completed literacy training through the USAID Skills and Knowledge for Youth Employment (SKYE) Project.
A release from the US Embassy said that the graduating youth came from Regions 4 and 5. The literacy training which was conducted in collaboration with the Adult Education Association (AEA), equipped the youth in that programme with basic reading skills including fluency, phonemic awareness, and word attack skills as well as grammar, mechanics, and comprehension with a background of work readiness requirements.
In addition to these graduates, a group of 12 young people at the New Opportunity Corps graduated last Wednesday after completing training which included literacy, work and life skills training.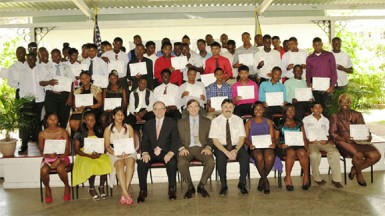 US Ambassador D. Brent Hardt and Dr. Luther Leudtke, President and CEO of Education Development Center (EDC) were present at the ceremony. In addressing the graduates and their families, Ambassador Hardt praised the young people for their dedication and hard work and thanked their coaches and mentors for their dedication to ensuring the graduates find good jobs.
The Ambassador pointed out that the Georgetown Chamber of Commerce and Industry's online job bank was helping to match employers with SKYE graduates, and noted that SKYE graduates were now a recognized "brand" that was becoming more widely known and respected by employers for producing talented, dedicated, and effective employees.
The release said that the SKYE project, funded through the Caribbean Basin Security Initiative (CBSI), is designed to equip young Guyanese with market-driven skills and improve their ability to gain and keep employment. The SKYE programme supports youth who are secondary school dropouts, young people who have completed formal education but require additional skills in order to gain employment, and youth in the juvenile justice system.
Under the CBSI-funded SKYE programme, 936 youth in Guyana have completed life and work skills training, 319 of whom were placed into full-time employment as of the end of February.
Through such CBSI partnerships, the United States and Guyana seek to ensure that young people in Guyana and throughout the Caribbean have the economic opportunity to build productive lives and contribute to their countries, the release added.
Comments

WASHINGTON,  (Reuters) – A U.S. government shutdown will enter its third day today as Senate negotiators failed to reach a deal late on Sunday on Democrats' demand for legislation protecting "Dreamers," young people brought to the country illegally as children.

GEORGETOWN, Guyana,  CMC – Jason Mohammed completed his seventh first class hundred but there was little joy for Trinidad and Tobago Red Force as Guyana Jaguars needed a mere 45 deliveries to pull off an innings and 81-run win in their final round match here today.

LIMA, (Reuters) – Pope Francis wrapped up his trip to Chile and Peru today by warning that Latin America was in a deep crisis from corruption, with politics in most countries "more sick than well." Speaking in improvised remarks to bishops, he mentioned the scandal involving construction company Odebrecht, which has admitted to paying billions in bribes, as an example of greed run amok across the continent of his birth.

SYDNEY,  (Reuters) – England's Jos Buttler struck a belligerent unbeaten 100 to set up a 16-run win over Australia in the third one-day international on Sunday, as the touring side took an unassailable 3-0 lead in the five-match series.

The Public Procurement Commission (PPC) hopes that by the end of this year debarment legislation would be in place as it will soon begin meeting with stakeholders on a draft.