Accused of raping a seven-year old girl in Port Kaituma, a Bagotstown man was yesterday remanded to prison when he was brought before the Georgetown Magistrates' Courts.
Thirty-two-year old Clifton Anthony was also charged with the possession of 10 grammes of cannabis on March 28, in Port Kaituma. The man denied both of the charges laid against him.
Representing the accused, attorney Paul Fung-a-Fat requested bail for his client's narcotics charge, stating that Anthony had never been charged before. In his bail application, the lawyer explained that the accused owned a large business place where the marijuana had been found and could not account for the persons who would regularly traverse through the building. He also pointed out that his client had been locked up for six days.  Prosecutor Michael Grant objected to bail, listing the nature and gravity of the offence along with the tender age of the child as his reasons. He also expressed fear that the accused would interfere with the victim due to the proximity of the two.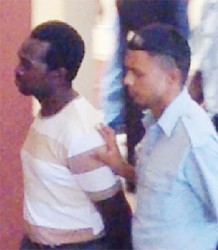 The prosecutor's objections were upheld by Chief Magistrate Priya Sewnarine-Beharry and Anthony was remanded to prison until April 30, when he will have his next day in court.
Comments

Despite the AFC's claim that it was not involved in the selection of a Guyana Elections Commission (Gecom) Chairman, its two senior leaders, Khemraj Ramjattan and Raphael Trotman, had advised President David Granger that he could utilise the constitutional proviso and make a unilateral appointment.

The National Assembly last evening approved over $8 billion in total budgetary allocations for 16 constitutional agencies even as the government's failure to properly account for cuts to requested expenditure drew criticism.

Opposition MPs were yesterday reprimanded by Speaker Dr Barton Scotland for their raucous behaviour on November 2nd, when they staged a protest that drowned out most of President David Granger's address to the National Assembly.

Ex-policeman Lloyd Roberts, who was accused of murdering Ryan Sergeant, the teen who was fatally shot outside of the Rio Inn nightclub last year, was yesterday freed after a court found that there was insufficient evidence for him to stand trial.

Although some municipal workers continued protest action yesterday over the nonpayment of their salaries for October, the Mayor and City Council (M&CC) has said that it has completed its payroll.