Sonia Herbert, the fiancée of Samuel Hinds Jnr, yesterday testified that both she and him were threatened by her sister, Tenza Lane, who she said armed herself with a kitchen knife and shouted that she would kill them both.
Lane, 18, of 57 Roraima Housing Scheme, West Bank Demerara, is on trial for threatening behaviour. It is alleged that Lane threatened to kill Herbert on February 27, at 83 Duke Street, Kingston, following an altercation with Hinds, who is the son of Prime Minister Samuel Hinds. She has pleaded not guilty.
Herbert entered the witness box yesterday in Court 10 at the Georgetown Magistrates' Courts and traced the origin of the dispute with her sister to the disappearance of a BlackBerry smartphone belonging to Hinds.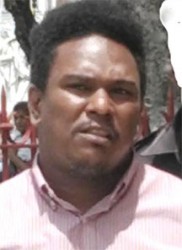 According to Herbert, Lane was accused of stealing the phone. She told the court that Hinds, minutes after she called him, turned up at 83 Duke Street, Kingston on February 27, where the three were living together at the time of the alleged offence. Hinds, she said, told Lane that she had to leave his home but Lane started to raise her voice at him and used a series of expletives. At that moment, Herbert said, she left Lane and Hinds and returned to her bedroom, where she overheard the exchange of words between them. A commotion was subsequently heard, according to Herbert, who testified that she returned to the room they were in. "The two of them were having a bit of a scuffle," she said, before adding that she then returned to her bedroom and called her grandmother. She added that while she was talking to her grandmother, she entered the room where Lane and Hinds were. "…Tenza run to the kitchen, where she picked up a knife…," she said, while noting that Lane stood next to a fridge, shouting to the top of her voice that she will kill both Herbert and Hinds.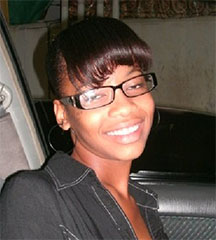 Herbert said she left again for her room only to return and see "…Samuel take out his gun and I pushed him through the door."  She later said Hinds had cranked the gun but did not point it at Lane. She said she asked Hinds to return to work and that he did so after he changed his shirt, which was torn during the scuffle with Lane. She also testified that Lane was banging a knife on the kitchen table and in an angry tone of voice threatened to kill them. She added that she became very afraid when Lane opened the kitchen and got a hold of a box of matches, thinking Lane may burn the house down. She said she barely managed to dislodge the head of the gas cylinder and retrieve the matches from Lane. "I tried to talk to her…" Herbert said, but she claimed that Lane warned her that if she came too close she would kill her. Herbert got emotional when she spoke of her sister's threats to her life. According to her, she has been Lane's legal guardian for the past 10 years. Under cross examination, Herbert denied that the only reason she was testifying was to save Hinds from embarrassment. She further denied that Hinds severely beat her sister on February 27, for which he has been charged. It was revealed in court that some of the evidence offered in court yesterday did not appear in Herbert's original statement to the police. The discrepancies between what Herbert said in the witness box and in her witness statement prompted Lane's attorney, Onika Archer, to suggest to her that the omission showed that Lane never picked up the knife and threatened to kill her. The lawyer further suggested to Herbert that the story was concocted because Lane decided to press charges against Hinds and she was making an effort to protect him. Herbert vehemently refuted those suggestions.
The matters against Hinds and Lane will be called again today for the continuation of trial.
Constable Garraway and Hinds and Herbert are to take the stand in both matters today.
Hinds was represented by Peter Hugh.
Comments

The legal team for former New Building Society (NBS) manager, Maurice Arjoon, who was wrongfully dismissed, have levied on the bank's assets in a bid to recoup the $59,033,000 pension owed to him by the financial institution.
An alleged inebriated farmer of 54 Strath Campbell Village, Mahaicony, ECD, died at about 3 pm  yesterday at Chance Village, Mahaicony, after a vehicle he was reportedly not given permission to drive, crashed into a utility pole.

MELBOURNE,  (Reuters) – Rafa Nadal's Australian Open quarter-final curse struck again on Tuesday, an injury forcing the top seed to retire in the fifth set against Croatia's Marin Cilic.

Several hundred more sugar workers are expected to be laid off from the Skeldon, Rose Hall, and East Demerara estates by next month and the Guyana Agricultural and General Workers Union (GAWU) yesterday urged that the decision be reviewed.

The commencement order establishing the Telecommunications Agency was signed last Friday, in anticipation of the liberalisation of the telecoms sector, Minister of Public Tele-communications Cathy Hughes announced yesterday.