Six homeless after Bath Experiment fire
A family of six has been left homeless after a mid-morning fire, suspected to be electrical in origin, swept through their two-bedroom house at Bath Experiment, West Coast Berbice yesterday.
Owner of the house, Nadira Johnson told Stabroek News that she was alone in the upper flat cleaning when she noticed a spark coming from the electrical outlet.
But she "did not take it for anything" and continued her chores.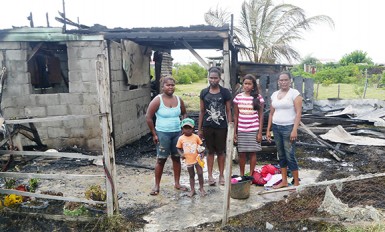 She had lifted her mattress and braced it to the outlet where the fire apparently started from. That was not the first time that the outlet had sparked.
The fire quickly caught on the mattress and she shouted for her children, Hubert, 17, Rashel, 16 and Chandini, 15, who were downstairs to "bring water quick!" Her two other children: Shanief, 12 and Shaniefa, 11, were at school.
They ran up and tried to douse the flame but it "got bigger." Persons assisted in removing the fridge and a television set but they were still damaged from the heat.
The fire spread rapidly and they were forced to run and leave everything else behind, including furniture, cell phones and other personal belongings. A few pieces of clothing that were in the kitchen in the lower flat were saved.
Neighbours in the meantime, heard the commotion and contacted the police and the fire service.
By the time the tenders from Onverwagt and Blairmont Estate arrived, the top flat of the building was already burnt and the bottom flat was badly gutted.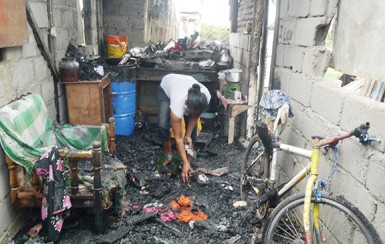 Johnson who works as a waitress at a Chinese restaurant said they have no place to stay. She would be grateful for any help to rebuild.
She told this newspaper that she "always had problem with the main switch" and would report it to the Guyana Power & Light (GPL) and "they came a few times and fix it."
When this newspaper arrived at the scene the fire tenders were leaving and workers from GPL were disconnecting the wires.
Most Read This Week