A fuel boat this morning exploded at Turn Basin, Port Kaituma and so far at least three smaller boats and six nearby building have been destroyed.
A resident explained that around 7:30 am a fuel boat which was moored at the wharf exploded and was quickly engulfed in flames. The fire, the resident said, spread to at least three smaller fuel boats which were moored alongside it. According to the resident, the fire then spread to at least six buildings on the water front. These buildings the resident said served as houses and small shops.
Stabroek News was told that residents have formed a water brigade and are fighting to keep the flames from spreading to nearby buildings. Pumps are also being used to get water to the fire scene.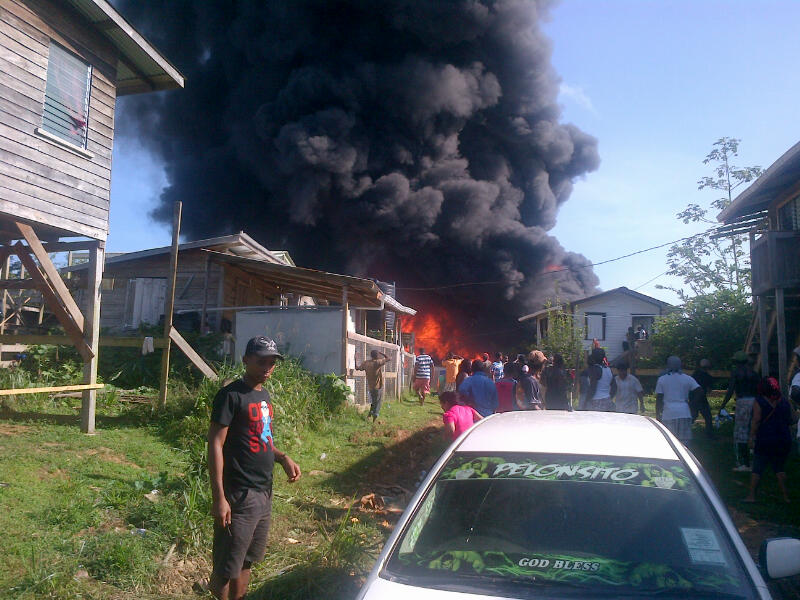 At the waterfront, buildings are very close together.
Over the years residents have been calling for a fire station in the area. This is the second fuel boat to have exploded in recent times. A lot of fuel is moved between Venezuela and Guyana and Port Kaituma is a transit point.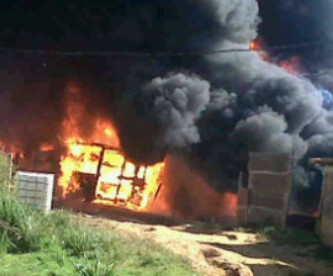 Comments
Armed bandits yesterday robbed an employee of Buddy's of $2M, moments after he had returned from a city bank and the police later recovered the suspected getaway car in Middle Road, La Penitence.

An East Bank Demerara businessman was on Monday afternoon shot and robbed of an undisclosed amount of cash and valuables after he was attacked by two gunmen while at the traffic light on Irving Street, Georgetown.

Design contracts for sanitary landfills were yesterday signed by the Ministry of Communities for Bartica, Linden and Mahdia.
The police are looking for a North West District woman who is believed to have fatally stabbed her common-law husband in the Upper Pomeroon.

A Kitty woman is now a remanded prisoner after she was charged with possession of cannabis, which police say she tried to hide in a pillow during a raid.