The prosecution yesterday closed its case against Tenza Lane, who allegedly brandished a knife at the Prime Minister's son and his fiancée, after three witnesses, including the young woman's sister, testified against her.
Lane, 18, of 57 Roraima Housing Scheme, West Bank Demerara was charged in late February with threatening behaviour towards Samuel Hinds Jnr and her sister and the man's fiancée, Sonia Herbert. She was also charged with unlawfully assaulting Hinds.
Lane's trial commenced earlier this week and had its third session yesterday, once more before Magistrate Geeta Chandan-Edmond.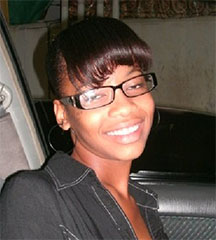 During yesterday's proceedings, Herbert took the stand again to offer evidence against her young ward. Under oath, Herbert recounted the events of February 27, the date of the alleged attacks.
According to Herbert, Hinds had returned home, prompted by a call from her. Herbert stated that on arrival at the home, Hinds confronted Lane about a missing cellular phone. Herbert added that her fiancée had asked Lane to leave the house. "At that time, Tenza started shouting at the top of her voice, using a series of F's and S's," Herbert said. She continued, "Tenza said that she was not going anywhere."
Herbert continued her account of the incident, sharing that Hinds had tried to grab Lane's hand but the young woman had hit him and refused, once again, to leave. Lane, Herbert said, had exclaimed that she was awaiting the arrival of the police. A scuffle soon ensued, during which Hinds kept up his insistence that Lane leave.
After Herbert's retelling of her version of events, she was cross-examined by attorney-at-law Onika Archer, Lane's legal representative.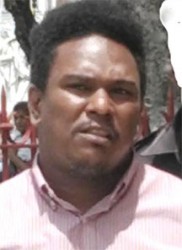 Archer noted that on the last occasion Herbert had testified that she had been in the bedroom on the phone with her grandmother before the scuffle began and had not known who had started the fight or how it had started. Pointing out a discrepancy in Herbert's new testimony and her previous one, Archer questioned which account of the events was factual.
Herbert hesitated before responding that both of her testimonies were true. When asked whether she had forgotten the new information presented before the court yesterday, Herbert replied in the affirmative.
"Let me guess: You just remembered things you had forgotten when you testified yesterday?" Archer asked. "You have a very convenient memory, ma'am," the attorney stated.
The attorney also questioned why Herbert had not broken up the fight, especially since she had been Lane's legal guardian. When asked if she had not seen it fit to protect her sister, Herbert refused to answer. It was only when she was prompted by the magistrate to respond did the woman mutter, "No."
Two officers of the law, Ike Grandison and Police Corporal Garraway, also testified to the fact that the incident had been reported and also that Lane had visible marks of violence on her body on the date in question. Another witness, Officer Peters, had also been called to testify. However, after a quick discussion with the man, Prosecutor Colin Primus notified the magistrate that Peters would no longer be testifying for the prosecution.
Prosecutor Primus yesterday closed off the prosecution's cases for Lane's two threatening behaviour charges against both Hinds and Herbert.
The matter was stood down until the afternoon session. However, at the later time, Lane's legal representative requested that the matter be adjourned to a later date.
Both sides will make their submissions in the matters on April 10 while the trial for Lane's alleged unlawful assault of Hinds will continue on that date.
Hinds is also on trial for the alleged assault of Lane.
Comments

Eighteen prisoners at the Lusignan penitentiary were being treated for injuries last night following a reported attempt to kill a fellow inmate during which warders fired shots.

A 12-year-old girl is now dead, while her brother narrowly escaped a similar fate yesterday after their aunt's La Bonne Intention (LBI), East Coast Demerara house, which they were under, collapsed on them.

Guyana has officially applied for membership in the European Union's Extractive Industries Transparency Initiative (EITI) which will help in tracking revenues from oil and other natural resources.

State Minister Joseph Harmon yesterday reiterated that President David Granger's directive to the Police Service Commission to halt its consideration of promotions was intended to prevent damage to the image of the Guyana Police Force but he could not say under what authority the head of state acted.

While saying that a strong security presence along the country's borders is the first line of defence against transnational criminal syndicates, President David Granger yesterday called for cooperation by all actors to see the security of Region Nine as a priority.