In a surprise move, APNU Member of Parliament Jaipaul Sharma yesterday resigned from the National Assembly over a comment made about his father by Education Minister Priya Manickchand during the budget debate even as Speaker Raphael Trotman lifted a ban he had earlier imposed on the minister following her refusal to apologise to her fellow MP.
Minutes after Sharma announced to the media that he had resigned, APNU Leader David Granger publicly asked him to reconsider his position, while pointing out that the resignation was not tendered to the main opposition coalition.
Sharma, who was scheduled to speak on the proposed budget yesterday, said he felt it was the best move as he was of the belief that the PPP/C would use his father's statutory rape charges to damage APNU.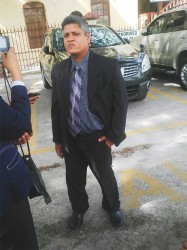 His father, Chandra Narine Sharma, also made a trip to the National Assembly yesterday and was seen sitting in the public gallery. The sitting also saw a group of persons protesting outside of the Public Buildings calling for the minister to apologise and set a better example.
At the end of the first session of yesterday's sitting, Trotman, who had earlier said he would allow Manickchand to speak and would not allow any debate on the issue, announced that Sharma delivered his resignation letter to the Parliament Office sometime after midday. He, however, delayed making the announcement as he believed that the letter was not final. "Every effort should be made by all of us collectively to convince Mr Sharma that he played a very, very vital role in this House and that he is very much appreciated," he said.
Manickchand on Tuesday was heckling during the presentation by APNU MP Volda Lawrence, who spoke about men not being held accountable for statutory rape. The minister then heckled that Lawrence should ask her APNU member, Sharma about this.
Sharma objected and called for the minister to apologise to him and his father and the Speaker also told the minister that she should apologise to the sitting member but she refused, saying that she meant no disrespect and that she was in a "bit of a tight spot."
 'Not for publicity'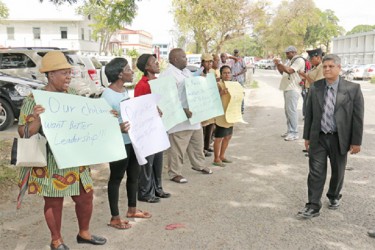 "This is not for publicity I am doing this…it is a decision I took after considering the matter," Sharma told reporters yesterday outside of the Public Buildings. He pointed out that while he was unwell on Wednesday and did not attend that day's sitting, he also took the time to consider the issue.
"I considered it in a strategic way and I understand that maybe the PPP/C is using this matter because it is a possibility that they may go for a snap election and they may use this as an opportunity to cause the APNU to lose votes. I don't want to be that individual, I don't want to be a political football," Sharma said.
"I believe that I did the right thing, the honourable thing and this would send a message that not because you are sitting in that Honourable House, [and] you enjoy a lot of privileges it would not fail you to resign. We had called for the resignation of the Home Affairs Minister and apparently he enjoy that privilege of MP and a minister so much that he rather disrespect the House and disrespect the decision of the opposition and not resign," he added.
Sharma said that by resigning he was setting an example and making it clear that no one is irreplaceable even as he acknowledged that  some of the parliamentary committees on which he sits would be "a little" affected by his resignation. However, he said he also knows that there are many persons on the APNU list that can fill the position.
He explained that the only other member on the APNU list from his Justice For All Party (JFAP) party is Geoffrey Sankies. However, he pointed out that even if no one from the party is a Member of Parliament, it will remain a member of APNU. He also pointed out that the partnership is made up of ten parties and five did not have any member in the House.
Granger, up to late yesterday afternoon, said that he had not received a letter of resignation from Sharma even though he had spoken to him earlier in the day. "As far as we are concerned, we are aware of what took place in the National Assembly and we felt that the Speaker's ruling to prevent
Miss Manickchand from speaking until and unless she apologises was a correct one," Granger said.
He added that the partnership was not satisfied with the statement the minister subsequently made and was still in support of Sharma and wanted to "continue discussion with him."
"We feel that it [the resignation] is a step that is rather precipitate and I would like to encourage him to remain. The budget is important. He is a member of our team. He is a member of the Anti-Money Laundering and Countering the Financing of Terrorism special select committee and we would like to have an opportunity to discuss this matter with Mr Sharma," Granger said.
 'Minor incident'
Trotman, meanwhile, told the National Assembly moments after yesterday's sitting began that there was a "minor incident" between himself and Manickchand on Tuesday, which resulted in an exchange in which he made some comments.
He said that he had since reviewed the series of events on video— both leading up to the exchange and after—and he had taken into consideration the comments made by the younger Sharma, in which he had indicated that it was his father and not him the statement was made against. He also said that he also took into consideration the statement made by the Minister on Wednesday to the House. "As I result, I have determined that I will not be hindering Ms. Manickchand's right to address the House if she so desires," he said, which prompted government MPs to hit their desks in satisfaction.
Trotman then instructed the Clerk to proceed with the business of the House. However, Opposition Chief Whip Amna Ally rose and asked for an apology from Manickchand over the statement she had made. She pointed out that while APNU respects the ruling, an apology was in order because of the statements made by Manickchand as had been recorded in the Hansard. "Ask you member Sharma, APNU member, chief member. There are girls under the age of 16 having babies and no one has ever been charged," she quoted the minister as saying.
Ally went on to say that in light of those statements, "APNU believes that this was a personal attack on Mr. Jaipaul Sharma, a sitting member of the APNU and we are demanding that the Honourable Minister make an apology, directly to Mr. Sharma".
The Speaker, in response, noted that Ally was within her right to demand an apology but that he "wished to state that there will be no debate on this matter."
He said that Sharma, when he objected, had said that his father was being impugned and not himself. "That is something that I reviewed and I had to take note of that he did not feel that he was the one being impugned but that it was his father. I believe initially that it was a sitting member of this House but by Mr. Sharma's own words he said my father and that is something that I must take cognizance of," he explained.
After the Speaker's announcement, Granger said the partnership had agreed with the first ruling of the Speaker but he noted that after Manickchand made a statement on Wednesday in which she indicated that it was not her intention to disrupt the House or to disrupt Lawrence's speech, they got the impression that the Speaker was inclined to allow her to speak.
"But we have expressed our dissatisfaction with the content of that statement," he added.
Speaker Trotman has repeatedly said that there should be no personal attacks on members or their families during heckles. During last year's debate he had called on APNU member Vanessa Kissoon to apologise to Minister of Works Robeson Benn after she had made a comment about a relative who was in trouble with the law. At that time, Trotman had said relatives of members should be left out of the business of the House.
"I will not recognise you to speak in this Assembly… on any day of this debate, if that is the attitude you are going to take," Trotman had told Manickchand on Tuesday on the last of the numerous attempts she made to interrupt him.
The Speaker had said that he heard exactly what Manickchand had stated and that it was out of order. He called the comments "dastardly" and added that no Member of Parliament needed to venture into that territory. When asked to apologise, Manickchand stood her ground, saying that she was in a "tight position." She said it was not Jaipaul Sharma she was referring to but his father CN Sharma.
Manickchand has since taken to Facebook to explain her actions, saying in detail why she was not prepared to apologise for the comment she made. "While I am truly sorry that my heckle caused a bit of a disruption in the National Assembly, and particularly that it caused an interruption to Mrs Lawrence's presentation, as that was never intended, and while I am truly sorry I caused the Hon Speaker to become upset, I found it impossible to apologise to Sharma or for making the remark," Manickchand wrote.
In the over 2,000-word piece she detailed the allegations made against CN Sharma by the children as told to her during her stint as the Minister of Human Services.
Comments
British High Commissioner to Guyana Greg  Quinn  yesterday said that it was hoped that more would have been done to push the constitutional reform process forward.

A West Coast Berbice man died after he reportedly set his one-storey house ablaze sometime around 11.20 am yesterday.

A Yarrowkabra miner was yesterday charged with the murder of a co-worker, whom he allegedly beat to death during an alcohol-fuelled clash last Saturday at a dredge site in the Potaro Backdam.
A court action was yesterday filed challenging a directive issued in the name of President David Granger to the Police Service Commission (PSC) for a hold to be placed on planned promotions this year, Attorney Rajendra Jaigobin, who operates from the Chambers of former Attorney General Anil Nandlall, is seeking the following declarations by the court: "a declaration that the Police Service Commission, a Commission established by the Constitution of the Cooperative Republic of Guyana, in the exercise of its functions shall not be subject to the direction or control of any other person or authority;
UK security expert Lt Col (rtd) Russell Combe, who is working closely with the Guyana government to resuscitate the Security Sector Reform Action Plan (SSRAP), will be broadening his mandate to assess the country's prison situation.