Colin Bailey, the longtime partner of murdered businesswoman Sirmattie Ramnaress is urging investigators to look beyond him in the search for her killers, while saying that available forensic evidence and telephone records could help solve the case.
Bailey, a serving Guyana Police Force Sergeant, remains confident that a breakthrough in the case could be forthcoming  despite the length of time that has passed since the murder. But he said that all suspicion should be directed away from him as this focus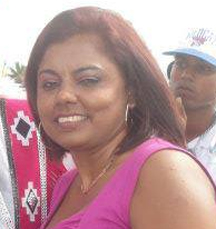 is allowing the real killer(s) to continue to go free. He insisted that he has no motive for committing the murder and noted that instead the police should be looking at the other persons who were close to the woman.
Bailey told Stabroek News recently that he has been silent for too long and has decided to come forward and give his views as people are continuing to allege that he is somehow involved. He was also hopeful that his comments would not in any way hinder the investigations because all he is seeking to do is clear the air. From day one, he said, he has always cooperated with the police and besides occasionally checking in with them for an update, he would share whatever information he would have gathered.
Bailey, who had been in-volved with Ramnaress for 21 years, said he has been informed that a different set of ranks has taken over the investigation. DNA samples were taken from him but he is not sure if they have since been sent abroad for testing. He said that fingerprints and blood samples were also collected from the woman's house.
Based on the reports, Ramnaress was found dead in her Diamond, East Bank Demerara home around 10 am on Saturday August 31, 2013, with a stab wound and injuries to her head and hip. She had been discovered after the fire service had been called about a fire at the house. The house was ransacked and drenched with a flammable liquid and a storage bond at the rear of the building was destroyed by fire. Her killer(s) also stole her car, which was later found abandoned on the East Coast of Demerara.
While neighbours related that they had seen the woman sweeping her yard earlier that morning, now acting Police Commissioner Seelall Persaud had told Stabroek News that Ramnaress was last seen alive at 9:05pm the previous night. He subsequently said that things were staged at the murder scene as part of an effort to cover up what had happened.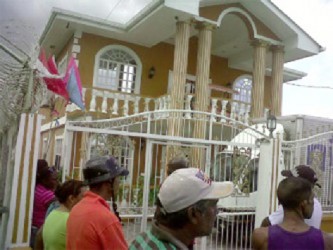 Ramnaress was very security conscious and had surveillance cameras all around her home. Based on what this newspaper was told, before she opened her electronic gate, she always first checked closed-circuit cameras to identify visitors. It is suspected that she must have known her killer(s) and let the person(s) in. Surveillance footage from her master bedroom went missing and it is suspected that whoever stole it would have had intimate knowledge of its location since it was kept in a secured place.
Likely leads
Bailey told Stabroek News that given the level of technology now available to the police, he was confident that the investigating ranks "will come up with something." He was unsure if police were able to gather any useful footage from the various CCTV cameras that are set up in the city. The killer/s would have passed through the city in the woman's car, possibly passing by some of the cameras on their way to Liliendaal, East Coast Demerara, where they eventually ditched the vehicle.
Police had previously said that investigators had looked at the footage but no useful evidence was apparently found.
Phone records, Bailey said, should also be part of the investigation because investigators might be able to trace who Ramnaress last spoke with and at what time. Again, he said, he was unsure if the police had done this as part of their investigations but he knew that they collected a landline telephone from the house and an audio recording. He said that based on his understanding, the audio recording was apparently made while the killer(s) attempted to use one of the woman's phones and may have accidentally pressed the record button. Bailey said that based on what the ranks told him, they could not make out much because the person was speaking in a creolese dialect but they did hear a door close and what may have been Ramnaress breathing. In this regard, he said that police are in need of voice recognition equipment as this too could be of use to this case.
He also said that there are "numbers" and that the police can use them to find a link and to get a timeline.
Asked about the woman's car, he said that he has found it strange that they would have driven it to the East Coast area. He said that this may have been another move to have fingers pointed at him as he is based on the East Coast. Observers had said that the car would have contained forensic evidence which may have helped to narrow the list of suspects. It is unclear what sort of forensic evidence, if any, the police were able to collect from the vehicle.
'Beyond Colin
Bailey'
"The focus should not be on me anymore. I am not part of this. I was her husband for 21 years. What reason would I have for killing her?" Bailey said, while adding that their relationship was a loving one. He recalled that months before she died, Ramnaress had to be hospitalised and he was there with her every step of the way. He said too that he spent 38 days with her while she recuperated.
He noted that there are people that the police should be focusing on but for some reason they are not. He added that these individuals are doing everything that they can to implicate him in the murder. He said that after her death, he has not gone back to Ramnaress's house, where some of his belongings probably still remain. "I left everything at the house," he said, before adding that he has since handed over the keys for the property to the woman's siblings.
He noted that he firmly believes that some of his wife's relatives are so interested in her property and assets that they would "love" for him to go to jail. However, he maintained that the "people" who killed his wife were people that she knew because she would not open her doors to strangers. He added that she would never venture outside to open the gate for anyone but would do so remotely. Bailey also questioned why no one heard her screaming while she was being attacked.
The police too where apparently working with this theory as well and Persaud had said that investigators were "looking at persons close to her."
The woman's relatives had said that Ramnaress had a fiancé" but the police have said nothing about him being a person of interest in their investigation. Based on what this newspaper had been told, the man, who lives in the United States, indicated that he had a copy of the surveillance recording, which was sent via a feed to his home. Bailey had said that the man should have had a digital backup of the surveillance footage from the businesswoman's property but he failed to produce it.
Despite the lack of break in the case, Bailey said he was assured that the investigators are working. According to him the police have things they can work with, which should be enough to "start something" and he also believed that someone out there has information that is vital to the case. "They should be looking beyond Colin Bailey. Take him out of the picture…," he stressed.
Comments

A jet plane flies by the total solar eclipse in Guernsey, Wyoming U.S.

Superstar opener Chris Gayle … returns to the West Indies side for the first time in over two years.

The Church Street hotel and casino Hotelier Clifton Bacchus today filed a $2 billion lawsuit against the state-owned Guyana Chronicle newspaper following its publication of two recent articles which he has described as "highly defamatory." Guyana National Newspapers Limited, which is the publisher of the Guyana Chronicle, and the editor of the Guyana Chronicle were listed as the defendants in the suit, which was filed by a team of lawyers headed by former Attorney-General Anil Nandlall.

LONDON, (Reuters) – The gradual decline of West Indian cricket is hardly a new phenomenon but the latest capitulation of a once-dominant test match power has brought genuine expressions of sadness throughout the sport.

Eleven residents of the juvenile correctional centre at Onderneeming on the Essequibo Coast were apprehended between yesterday and this morning.