An outgoing passenger was on Sunday night nabbed with cocaine laden pastries at the Cheddi Jagan International Airport, Timehri, Head of the Customs Anti-Narcotics Unit (CANU) James Singh has confirmed.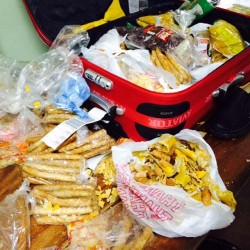 Singh, when contacted, said that the man who was booked as a passenger on a flight to the JFK International Airport in New York remains in custody assisting with investigations.
He said a total of 7.5 kilogrames of cocaine were discovered by CANU ranks, concealed in a quantity of cheese rolls, pine tarts and mettai.
Stabroek News was reliably informed that the detainee is a resident of Berbice. The cocaine, this newspaper was told, was baked into the pasteries.it is unclear how it was concealed in the mettai.
Drug traffickers continue to come up with innovative ways to get the cocaine out of Guyana undetected.
Just over a week ago, CANU ranks discovered an undisclosed quantity pf cocaine in a shipment of awara which was destined for Canada. The drug smugglers formed and sprayed some cocaine filled balls to look like the bright orange fruit before mixing them in containers with genuine awara for shipment.
Comments

Vamanadev Hiralall, of the privately-run Saraswati Vidya Niketan (SVN), is the country's top performer at this year's Caribbean Advanced Proficiency Examinations (CAPE) after achieving an accumulated 13 grade one and 3 grade two passes.

Twenty-six students in the top one percent of the 12,684 who sat this year's Caribbean Secondary Education Certification (CSEC) examinations earned 12 or more Grade I passes, with half of them, including the top performer, coming from Queen's College (QC).

On the second day of the Commission of Inquiry (CoI) into African ancestral lands and other matters, four witnesses made cases for the return of lands they feel they are rightly entitled to, which were either taken by the state or occupied by private owners.

Shelton George, the man charged with both murdering a waitress at a Chinese restaurant and the attempted murder of a magistrate, was found dead in his cell at the Lusignan Prison yesterday morning.

The Chairman of the Triumph Neighbourhood Democratic Council (NDC) yesterday instructed workers employed on a private site, reportedly intended to build a first-floor pool, to cease operations, just two days after residents called on authorities to halt its construction.