The sewerage system at the recently refurbished Georgetown Magistrates Courts is now overflowing and according to workers there, the system has been defective from the time the courts reopened.
At approximately 2pm the effluent rose beyond its boundaries and an hour later, it had covered the route to the prisoner's chute leading to Courts One and Two.  Prisoners and police officers had no choice but to walk through the water, and attorneys too could be seen picking their way through the effluvium.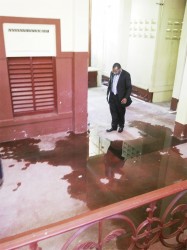 An elderly woman said she avoided the sewage by walking behind the south-western end of the building, while another woman shouted, "This place stink, stink, stink!" Police officers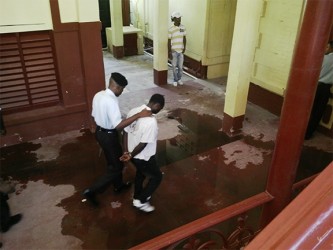 who had no option had to sit and endure the stench.
Comments

UN experts condemn racist violence in U.S., urge investigations GENEVA, (Reuters) – United Nations human rights experts called on the United States today to combat rising racist violence and xenophobia and to prosecute perpetrators of hate crimes.

The twin-engine Beech aircraft seized by authorities on an improvised airstrip on Sunday in the North Rupununi, Region Nine area, was yesterday confirmed as bearing a registration number belonging to an investment company in Brazil.

ExxonMobil yesterday signed a deal with Guyana Shore Base Inc (GYSBI) for an onshore support facility at Houston on the East Bank of Demerara.
While students who sat Caribbean Examination Council (CXC) exams in May and June of this year will be able to access their results online on Friday, the Ministry of Education has already announced that Guyana has recorded a 7% increase in passes at the Caribbean Advanced Proficiency Examinations (CAPE).

A post-mortem examination is expected to be done today to determine the cause of death of a nine-month-old baby, who died on Monday after she was left in a car.