A post-mortem examination conducted on murdered Brazilian miner Joao De Souza has determined that he died as a result of cerebral haemorrhaging caused by blunt trauma to the head.
His reputed wife Doris Williams yesterday travelled to Georgetown to witness the post-mortem examination and to finalise the funeral arrangements. She also had to pay a visit to the Brazilian embassy.
De Souza who has been living in Guyana for a number of years and who fathered a three-year-old child with Williams died last Tuesday hours after he was struck in the head and about the body with a rock during a robbery.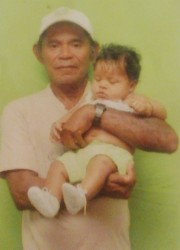 Williams's 14-year-old nephew who was with De Souza at the time had related to this newspaper that shortly after leaving a shop at 5 Miles, Arakaka on their way back to their mining camp located a short distance away, they noticed a man following them.
The teen said that when they were about two minutes away from the camp he felt an object hit his foot and when he shone the torchlight he was holding, he saw a man with his head down. He said the man had a stone in his hand. It was then that the man started to hit De Souza in his head, the teen related. He said he ran to their camp for help. When he and Williams returned they found De Souza lying motionless on the ground. The attacker by then had fled.
De Souza died at 11:40 hrs the following day while waiting at Matthew's Ridge Airstrip to be flown to Georgetown for additional medical care.
Meanwhile, the teenager, who was arrested, was yesterday morning transported to Georgetown. He was among three persons arrested. The other two, including a businessman were released. On Saturday the teen was transported by police from Arakaka to the Port Kaituma Police Station.
Comments

(Reuters) – England's top order fired in unison to give them a four-wicket win in the second one-day international against Australia on Friday as Aaron Finch's second straight hundred for the hosts could not prevent them falling 2-0 behind in the series.

Four weeks after passing a $267 billion budget for 2018, the National Assembly will debate a supplemental provision of $1.75 billion to meet a portion of the severance pay for around 4,000 sugar workers.

Autopsies performed on the bodies of Ambrose Baharally and Martin Godette, the Pomeroon farmers who were shot dead on Sunday, have found that both men died from gunshot injuries to the head.

The ground-breaking Whistleblower Protection Bill was passed in the National Assembly last evening without amendment, although there was opposition to the formulation of a commission to act as the governing body.

Gregory Bascom, the city policeman who allegedly fatally shot mentally ill vendor Marlon Fredericks after he reportedly attempted to flee custody on Sunday, was today charged with manslaughter and released on $800,000 bail.