Another witness testified yesterday in the Prelim-inary Inquiry (PI) to decide whether accused Carol Ann Lynch is to stand trial for the murder of her husband Farouk Razack.
Dr Sheik Hassan Ameer, who was on call and the head of the Accident and Emergency Unit at the Georgetown Public Hospital (GPH) on the day the former Swiss House Cambio boss was rushed there, took to the stand and offered evidence.
Three other witnesses, who were scheduled to tender evidence yesterday, were absent. Prosecutor Bharat Mangru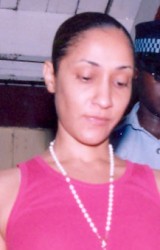 told the Chief Magistrate Priya Sewnarine-Beharry, who is presiding over the PI at the Georgetown Magistrates' Courts, that one of the witnesses, a policeman, was in Bartica. Another policeman scheduled to testify was present but Mangru reported that he had to uplift photographs to be tendered as evidence. Dr  Ramnauth Singh, who was expected to testify, was also absent and the prosecutor reiterated the difficulties he was having in contacting the remaining witnesses.
Lynch, a former beauty queen, was first charged in May of 2007 after Razac was found dead on the floor of their Eping Avenue, Bel Air home. Following a PI, then Magistrate Gordon Gilhuys in late December 2007 had ruled that no prima facie case was made out against her and she was subsequently discharged. However, Lynch was charged once again.
The PI continues today.
Comments

Wijeyadasa Rajapakshe   COLOMBO, (Reuters) – Sri Lankan President Maithripala Sirisena today sacked the justice minister over his criticism of a $1.1 billion deal, signed last month, to lease a port to a Chinese company, the cabinet spokesman said.

NEW YORK,  (Reuters) – Two Harvard University researchers said in a study published today they had collected scientific data proving Exxon Mobil Corp made "explicit factual misrepresentations" in newspaper ads it purchased to convey its views on the oil industry and climate science.

In the wake of rising bad loans and a massive alleged fraud against it this year, the Guyana Bank for Trade and Industry (GBTI) has posted an unaudited net after tax profit of $603m for the first six months of this year compared to $961m in the same period for 2016.

Vamanadev Hiralall, of the privately-run Saraswati Vidya Niketan (SVN), is the country's top performer at this year's Caribbean Advanced Proficiency Examinations (CAPE) after achieving an accumulated 13 grade one and 3 grade two passes.

Twenty-six students in the top one percent of the 12,684 who sat this year's Caribbean Secondary Education Certification (CSEC) examinations earned 12 or more Grade I passes, with half of them, including the top performer, coming from Queen's College (QC).