Queen's College won 15 first place awards at the Ministry of Education's Science, Mathematics and Technology Fair awards ceremony held on Friday last in the QC auditorium.
Prizes were distributed in four main categories: Primary, Lower Secondary, Upper Secondary and Open/Out-of-School which were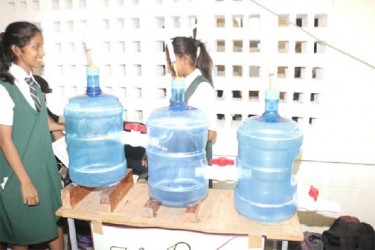 further sub-divided into other categories specified according to the nature of the projects.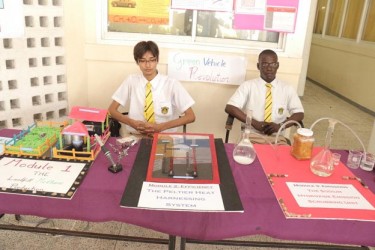 QC won 15 first place awards for the following projects: Home Economics – Green Clean; Mathematics – The Plant Utopia; Craft and Visual Arts – The Egg-ceptional Egg Project; Chemistry – The Carbon Monoxide Vacuum; Social and Behavioural Science – Making small lifestyle changes to support a greener environment; Physics – Electrostatic Precipitator; Agricultural Science – Hydroponicum; Environ-mental Science – Fuel to the future;  Environmental Science – Trash to Gas; Information Technology – The paperless school; Mathematics – The green converter; Home Eco-nomics – Illustrious Citrus, Agricultural Science – The panacea that is soursop and Social and Behavioural Science – Operation Safe and Sound.
The Sophia Special School earned two first place awards for its projects in Industrial technology – Wood is the way to go for the 21st Century and Craft and Visual Arts Project – Kolten Craft made by hands.
St Rose's High walked away with a first place award for its Integrated Science project – Cleansing today's generation with water purification while the Bishops' High won the first place award for its Biology project – Bio Gas Digestion which also earned the Best Overall Upper Secondary School project.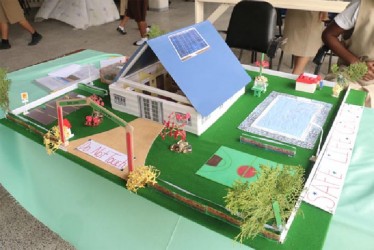 QC's Operation Safe and Sound also won the prize for Best Overall Lower Secondary Project; while its Green Vehicle Revolution earned the prize for Best Overall in the Open Category. Graham's Hall took the prize for Best Overall Primary Project for its Science project – Wonder Papaw.
Comments

Joe Root hit his 13th centuryfeatured   BIRMINGHAM, England, (Reuters) – England's Joe Root and Alastair Cook crafted superb centuries to lead the hosts to a commanding 348 for three on the opening day of their first day-night test against West Indies today.

A police officer helps evacuate people after a van crashed into pedestrians near the Las Ramblas avenue in central Barcelona, Spain August 17, 2017.
A post-mortem examination is expected to be performed on the body of housewife Janice Edwards, 38, of 121 'C' Field, Sophia, ECD, to determine the cause of her death.

A sketch of the proposed Curepe Interchange (Trinidad Guardian) China Railway Construction Corporation (CRCC) has been awarded a $221.7 million contract by the National infrastructure Development Company (Nidco) to build the controversial Curepe Interchange, the state company's chairman Herbert George has confirmed.

Legal Advisor to the Police, retired Justice of Appeal, Claudette Singh yesterday testified that there was insufficient evidence in the allegation made by Andriff Gillard of an alleged plot to assassinate President David Granger.