Carol Sooba's appointment as Town Clerk was today quashed by Chief Justice (ag) Ian Chang in the High Court.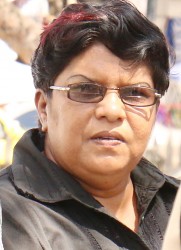 Justice Chang ruled that the Local Government Minister did not have the power to appoint Sooba and therefore the appointment was illegal.
In December 2013 City Hall's Public Relations Officer Royston King had filed suit asking that the then minister, Ganga Persaud, show cause why his decision to appoint Carol Sooba as Town Clerk should not be reversed. King's move came after Sooba was appointed despite widespread disapproval and also because an interview panel had voted her as the least qualified person for the job. King had charged that the decision was an abuse of power because Persaud had failed to apply the conditions he had originally requested when advertising for a Town Clerk.
King, Paul Clark and Darren Khan were the other applicants for the position.
Comments


The National Accreditation Council of Guyana (NAC) is advising the public that the American Medical Institution is not registered with the NAC as is legally required for post-secondary and tertiary educational institutions operating in Guyana.

MUMBAI, (Reuters) – India captain Virat Kohli had something to cheer on Thursday when he was named ICC World Cricketer of the Year, a day after suffering his first test series defeat as skipper in South Africa.

Fifteen city councillors voted yesterday in favour of accepting the recommendations of the parking meter renegotiation committee, which would see a reduction in parking fees to $150 per hour, exemptions for religious organisations and schools, and Smart City Solutions (SCS) giving up on their claim to garage parking.

A GDF rank was yesterday remanded to prison over three armed robbery charges and alleged possession of an unlicensed gun and ammunition.
Minister of Natural Resources and Leader of the Alliance for Change (AFC), Raphael Trotman on Monday praised ExxonMobil for investing in the oil sector here and said it is now resulting in other important companies wanting to do business here.