An unidentified man was crushed to death yesterday afternoon after a truck in which he was hitching a ride overturned on a hill in Region Eight.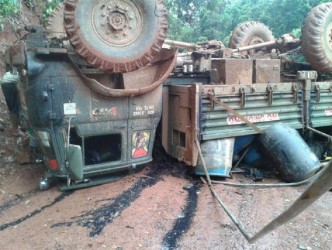 Mark Grimmond, the owner of the vehicle, said his truck was headed to Olive Creek, Region Eight, when it overturned on a hill. He said the driver of the truck related to him that he had lost control of the vehicle while going up a hill and it overturned. The accident occurred around 2pm.
Grimmond said the ill-fated passenger had stopped the truck along the trail and asked for a ride.
He then jumped into the tray of the vehicle and was subsequently pinned under the truck after it overturned.
The truck was carrying fuel and groceries into the interior location.
Comments

MUMBAI, (Reuters) – India captain Virat Kohli had something to cheer on Thursday when he was named ICC World Cricketer of the Year, a day after suffering his first test series defeat as skipper in South Africa.

Fifteen city councillors voted yesterday in favour of accepting the recommendations of the parking meter renegotiation committee, which would see a reduction in parking fees to $150 per hour, exemptions for religious organisations and schools, and Smart City Solutions (SCS) giving up on their claim to garage parking.

A GDF rank was yesterday remanded to prison over three armed robbery charges and alleged possession of an unlicensed gun and ammunition.
Minister of Natural Resources and Leader of the Alliance for Change (AFC), Raphael Trotman on Monday praised ExxonMobil for investing in the oil sector here and said it is now resulting in other important companies wanting to do business here.

The city lance corporal, who on Sunday allegedly shot and killed Marlon Fredericks, a mentally-challenged vendor, after he reportedly attempted to flee custody is to be charged with manslaughter.